The 2017 Major League baseball season may be winding down, but it got off to a pretty good start for Washington, Georgia resident Marvin Hudson. He had the best spot in the house as the home plate umpire at the Atlanta Braves' opening game in the team's new Sun Trust Park.
If the start of this season was auspicious, however, then the end of last season was even better. Hudson was the third base umpire in the deciding seventh game of the 2016 World Series when the Chicago Cubs ended a 108-year drought to win the Fall Classic by defeating the Cleveland Indians.
Exclusive Club
It may not have taken the 53-year-old Hudson, who became a Major League umpire in 1999, quite as long as it took the Cubs, who until last year had not won a National League pennant since 1945, to make it to the World Series. And he didn't have to contend with years of frustration, the curse of the Billy Goat and an infamous foul ball that haunted Cubs fans for decades. However, the thrill of reaching the pinnacle of his profession – and sharing it with those who matter most to him – was just as real for Hudson.
"My biggest thrill was having my wife, Sherry, daughter Breckyn and son Zack at the games," he says. "Just seeing my family enjoying the thrill of the games and being in that electrified atmosphere made it all worth it."
Hudson was one of four members of the seven-man crew that was umpiring a World Series for the first time.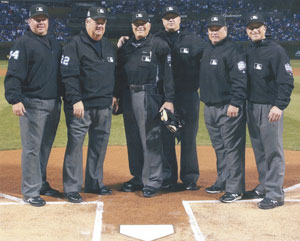 While he was in an exclusive club with his Fall Classic assignment, the nature of his job puts him in a small coterie of professionals as well. Hudson is in a select fraternity of only 76 Major League umpires. Each year more than 300 prospects try out for the coveted positions.
"Few slots are available each year because of the low turnover rate, and some veteran umpires may serve 30 years or more," Hudson says.
The prospective umpires are under strict scrutiny by their superiors and Major League Baseball. Each pitch in every game is recorded, and umpires are graded as to whether they miscalled a ball or a strike.
The former baseball player for Piedmont College, where he was inducted in the Demorest, Georgia school's Sports Hall of Fame in February, decided to become an umpire at the urging of his friend, Doc Sisk. After Sisk encouraged him to try his hand at calling games, Hudson enrolled in professional umpire training school. Minor League Baseball Umpire Development has approved the curriculum for two training schools, which run for four to five weeks in January and February each year.
Hudson finished umpire school at the top of his class, and his first professional assignment came in the Appalachian League in 1992. He continued to pay his dues by calling games in the South Atlantic, Florida Instructional, Southern, Hawaii Winter and International leagues before breaking into the Majors in 1999. Most umpires spend seven to 10 years in the minor leagues – twice the amount of time it typically takes a baseball player to make his way through the ranks – before getting called up.
During training, instructors evaluate potential umpires on much more than their knowledge of baseball rules. Umpires must exhibit traits such as confidence, a strong presence on the field, knowledge of mechanics (where to go when the ball is hit), forceful calls, effective use of voice, hustle, character, good judgment and the ability to handle situations on the field. In short, baseball umpires must be able to represent the integrity of the game.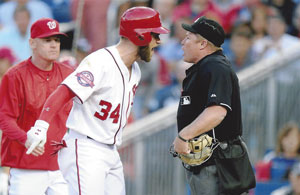 Umpires need to develop a thick skin – and decide just how much they're willing to tolerate from players, managers and fans – to perform their duties as well. Hudson once tossed an unruly fan out of the stadium during a Southern League game in Memphis. He had words with the Washington Nationals' outfielder Bryce Harper and manager Matt Williams about a called strike before ejecting them in the third inning of a 2015 game against the New York Yankees.
Easy Call 
Umpiring in the Major Leagues is much more than calling ball or strike, fair or foul, safe or out, however. At training school, professional umpires also are taught how to conduct themselves on and off the field. And some of those off-field attributes translate into charitable work. Hudson serves as vice president of the board of directors of UMPS CARE, which provides financial, in-kind and emotional support for America's youth and families in need. His wife serves on the Volunteer Wives Committee.
The mission of UMPS CARE is to put its creed – "Helping People is an Easy Call" – into action. The professional umpires enrich the lives of at-risk youth and children coping with serious illness by providing them with memorable baseball experiences. Through scholarship initiatives, the organization also offers financial support to children adopted later in life and to current and former members of the military. 
Having the opportunity to make a difference in the lives of others – as well as the chance to wear a Major League umpire's uniform – have made the endless travel, grueling schedule and low pay in the minors all worthwhile. With patience, perseverance and focus on his goal, Hudson has achieved his dream. 
By Lamar Garrard