From high school to college to professional baseball, a former Greenbrier pitching standout is succeeding on every level.
As a young boy who started travel baseball at age 7, Nick Sandlin dreamed of playing in the Major Leagues.
"Every time I watched the Major League games on television, it was something I wanted to do," says Sandlin, the ace pitcher for Greenbrier High School's 2015 state championship team.
A month removed from college baseball, Sandlin, 21, is making rapid progress toward his dream.
After only three appearances in relief with the Arizona Indians of the Rookie League, Sandlin recently was promoted to the Lake County Captains, the Class A affiliate of the Indians.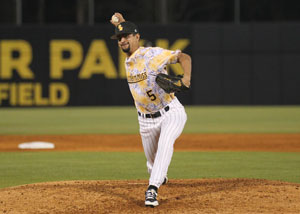 In his first relief appearance for the Captains in Eastlake, Ohio, a suburb of Cleveland, Sandlin allowed no runs and struck out one in one inning.
Sandlin says he is "comfortable" as a reliever or starter in professional baseball.
"The plan is for me to be a reliever," he says. "I guess that's how they see me moving up the fastest through the system."
Following a stellar junior year at the University of Southern Mississippi, Sandlin was selected in the second round (67th pick overall) in the Major League draft on June 6, receiving a signing bonus of $750,000.
After shifting from closer to starter, Sandlin, a right-handed pitcher, went 10-0 for Southern Mississippi this season. He had an earned run average of 1.06, the lowest in the nation. With a fastball in the low 90-mph range, he struck out 144 batters and walked only 18 in 1021⁄3 innings.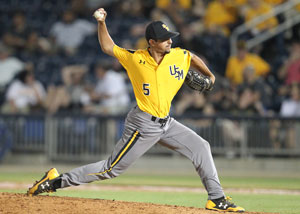 Sandlin led the Golden Eagles to a Conference USA regular season championship and a conference tournament championship for the first time since 2003. In the NCAA regional, he shut out Dallas Baptist with 10 strikeouts. Southern Mississippi finished the season with a 44-18 record.
"I had the mindset going in," Sandlin says about the 2018 season at Southern Mississippi. "Of course, you have goals. You have to remain consistent and dependable."
Among the collegiate honors received by Sandlin were Perfect Game's National Pitcher of the Year, first-team All-American by Collegiate Baseball and first team by the American Baseball Coaches Association/Rawlings All-America.
Sandlin is the only pitcher in Southern Mississippi history to win and save more than 20 games each in a career.
He played second base until his junior season at Greenbrier. Wolfpack pitching coach Mark Turner saw potential in Sandlin and worked with him during the summer after his sophomore season to change his delivery from overhand to sidearm. Sandlin has been a standout ever since.
By Jim Irish