Two Columbia County singers/songwriters put pen to paper to make their mark on Music City
If you have a song – or two – in your heart, sometimes it pays to put it down on paper. Just ask Columbia County native sons Ray Fulcher and Ben Wilson. These singers/songwriters have followed similar, but separate, paths to seek success in Nashville.
Ray Fulcher — Hitting the Ground Running
Ray, 32, originally from Harlem, co-wrote eight of the 12 tracks on Luke Comb's debut album, This One's For You. The album, released on June 2, became the top-selling debut from a country artist in 2017 and grabbed the No. 1 spot on Billboard's country album sales chart. A single, which was co-written by Ray, from the album, "When It Rains It Pours" was released on the radio the third week in June. "It was the most added song to radio stations in the country," Ray says.
Ray met Luke shortly after he moved to Nashville in May of 2014, and the two quickly struck up a friendship. "We had a lot in common and decided to try our hand at writing. At that time neither one of us had a whole lot of traction yet," Ray says.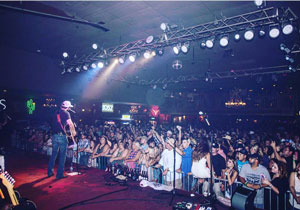 They started writing about their own or friends' past experiences and things that excited them.
"We wrote a lot of those songs on the album two years ago. We started writing songs that we'd be proud of. We weren't writing a Luke Combs record," says Ray. "Stylistically, we complemented each other really well. A lot of songwriting is putting yourself in another person's shoes."
Ray has been writing songs for about five years, but he got serious about it when he moved to Nashville. Music City got serious about him, too, and he landed a publishing deal with River House Artists/Warner Chappell Nashville in June of 2016.
"I hit the ground running when I moved to Nashville three years ago," says Ray. "I moved here knowing only a handful of people. I didn't have any blueprint. I went to songwriting rounds at night where people played songs they had written. My first year in town I wrote with anybody. I wrote as much as I could with anybody I could. I wanted to figure out my style."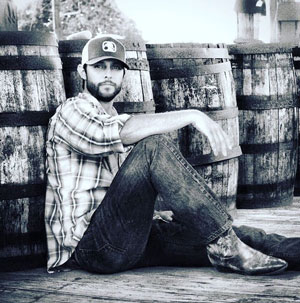 Ray played shows on weekends, and he proved to be a quick learner. "The first thing you learn in Nashville is that everything is a process," he says. "I just focused on doing something every day."
Ray, who earned two degrees from the University of Georgia, including a Master of Education, always loved music when he was growing up. He bought himself a guitar for his 20th birthday, took a few lessons and started playing shows in Athens. However, his interest in music really hit a high note after he heard Eric Church, who had just gotten a record deal, play his song, "Lightning" at Georgia Theatre in Athens in 2006. He realized that he wanted to make people feel the way he felt after hearing that song.
"I want people to feel something through the lyrics or through the music," says Ray. "Music can take them to a certain place or bring back a certain memory or make them think. If they feel something, then I've done my job."
Although he moved back home to Harlem after college, Nashville ultimately called him. "I asked myself, 'Could I look back one day and be OK if I didn't give it a shot?' The answer was, 'No,'" he says.
Ray's current EP "Here We Go Again" landed in the top 10 on the Country iTunes chart in September 2016. When he isn't writing, he plays shows across the Southeast and Midwest with his bandmates that include two other Columbia County natives – Tyson Thaxton and Davis Branch. This fall he is going on tour with Combs.
In addition, Ray will be back in Columbia County on Saturday, August 19 for "Party in the Park" as one of six Nashville songwriters who will perform at a songwriters' round at Evans Towne Center Park.
"It's a free, family friendly, guitar pull-style show that will raise money for the Columbia County Exchange Show," says Ray.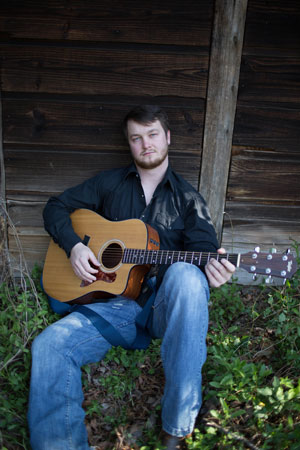 Ben Wilson — Doing It Right
Martinez resident Ben Wilson hopes to find success in Nashville as well. He released his first album, The First Round, on iTunes, Spotify, IHeartRadio, Pandora and several other media outlets in May.
"I've been writing music since I was in middle school," says Ben. "It's always been a dream to do something with my music, but to do it, you need a professional-quality recording."
He contacted McKenna Hydrick, a North Augusta native who now lives in Nashville, to ask her about recording leads in Augusta or Columbia. She encouraged to aim even higher.
"She said, 'If you're going to do it, do it right,'" says Ben, a 2011 Lakeside High School graduate and a 2016 University of Georgia graduate who earned a B.S. in Education and a B.A. in English.
Hydrick connected him with producer Paul Kimsal, and in February Ben traveled to Nashville to record the seven-track album. When he arrived in Music City, Kimsal had scheduled studio musicians for the recording session. "I had major leaguers with me," Ben says.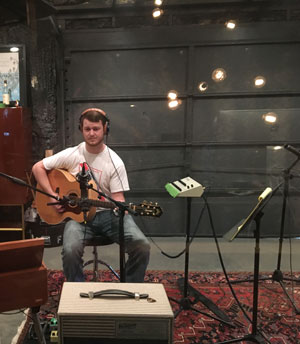 The musicians included drummer Nick Buda and Justin Schipper, who played steel guitar and dobro on the album. Buda was the drummer on Taylor Swift's first five multi-platinum albums, and he also has recorded with the likes of Dolly Parton, Martina McBride, Lady Antebellum and Randy Houser. Schipper has toured with Josh Turner and Shania Twain. In addition, Hydrick, who is in the process of recording her second album, sang on one of the tracks, "Big Old Country Sky."
"It was like watching Pinocchio go from being a puppet to a real boy," Ben says. "I was giddy. I thought, 'This is so cool.' I wanted to jump up and down, but I tried to act like I had been there before."
Ben, who also dabbles in banjo and harmonica, plays acoustic guitar on the album. He wrote or co-wrote all of the songs on the album as well.
"Country music is the storytelling. That's what the genre is known for. The songs stand the test of time. You feel like they're about your life," he says. "Music in general has a way of reaching people that a conversation or a sermon or an article may not. I love that about music. It has the power to change people's mood or lift them up or deepen whatever they're feeling. A song can turn your day around."
He also has found that inspiration can pop up anywhere. "I was having a conversation with a girl, and she said, 'You're like a country song,'" says Ben. "A light bulb went off."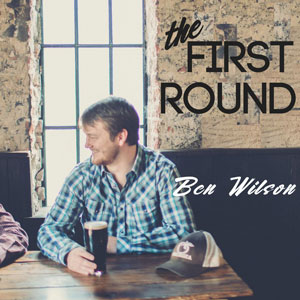 "Like a Country Song" is one of the tracks on the album.
"There's nothing like going in the studio and recording," says Ben. "But the most special part of the process is sitting down with my guitar and a piece of paper."
One of five boys, Ben, 25, is part of a musical family. His mother, Jeanine, plays the piano and is learning to play the violin, and his father and some of his brothers play the guitar. He got his first guitar as a birthday present when he was in middle school.
He worked as a substitute teacher last year, but he is looking for jobs in Nashville. "Anything that will pay the bills," he says. Of course, he still dreams of pursuing a musical career.
"I had to go to Nashville and record to realize that's what you have to do to record music. Going through the process made it seem like a real possibility," says Ben. "I have a professional recording. I have a polished product. I'd like to make connections and get my music in the right people's hands. If the right things fall into place, there's no telling what would happen." 
By Todd Beck