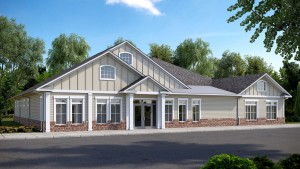 Augusta has long been a hub for medical care in the region and state, and those services continue to become increasingly available in Columbia County.
Furys Ferry Road is the site of several new medical and assisted living facilities. Augusta Plastic Surgery opened a new office on the roadway in August after moving its practice from downtown Augusta, and Dr. David Alemar moved his dentistry practice from Washington Road to a new building on Furys Ferry Road. The Claiborne of West Lake, a 100-unit, resort-style senior living facility, will open this fall.
University Health Care System also will open its eighth prompt care facility in the area just outside West Lake in April 2019. The 11,000-square-foot building on Furys Ferry Road will offer walk-in appointments for non-emergency medical conditions.
In addition, an Augusta University Health primary and cardiovascular care facility is under construction on Furys Ferry Road. The 6,450-square-foot building, which will include 12 exam rooms and a pharmacy, is expected to be complete by early 2019. 
Along with this facility, AU Health also announced in August that it has opened a primary care center in the Perfect Health Urgent Care and Weight Loss building on Washington Road. The office is called Augusta University Care Center Evans.
AU Medical Center also has plans to build a $149 million, 100-bed hospital on an 82-acre parcel of land in Grovetown. Columbia County is the largest county in Georgia with no hospital. 
A new dental office, Dental Associates of Grovetown, has opened in the Gateway area, and Jordan Family Dentistry has opened on Lewiston Road. MedNow Urgent Care Center has opened a location on Lewiston Road, and Perfect Health is opening a Grovetown location by Kroger. Pediatric Partners of Augusta has a new facility on Wrightsboro Road in Grovetown.