Look for lots of additions to Columbia County School District and other educational facilities.
The Columbia County School District has big plans.
In August, district personnel presented the Board of Education with a 10-year building program proposal that will equip county schools to accommodate continued growth projections, while focusing on modernization and upgrades to existing facilities.
Steven Flynt, superintendent of schools, says the district developed the program as part of its five-year strategic plan, and it surveyed people in the community to find out what they wanted in their school district.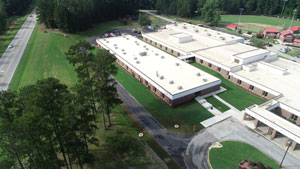 "Early on, we heard a lot about aging facilities and the need for updates to schools," he says. "We decided it would be more effective to project 10 years out and let the community know what was going to happen and when it would happen."
District officials also worked with consultants and enrollment forecasters to develop the plan for 2022-32.
In the meantime, several schools started the 2022-23 academic year with a new look.
Grovetown and Harlem high schools opened with 22 additional classrooms in August, and Greenbrier Middle School has a new 12-classroom addition.
Classroom additions also are underway at Harlem and Columbia middle schools, and site work has begun for a 12-classroom addition to Euchee Creek Elementary School.
"Right now we're focused on making sure we get all of our additions built so we can get students in regular classrooms," says Flynt.
The athletic fields at all five county high schools also got a facelift in the past year, replacing the grass with artificial turf to increase useability.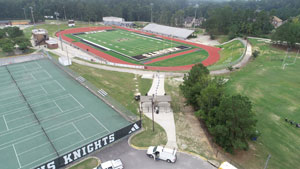 "We can use the fields for practice, games and right after inclement weather because we put in drainage," says Flynt.
A softer rubber in-fill of a lighter color was installed as well.
"The new fields don't absorb as much heat," Flynt says. "They are 20 percent cooler than fields with black rubber in-fill. We also put pads under the fields that cushion the landing when students fall."
As part of the project, all of the high school tracks also got an upgrade. With the exception of Evans High, the tracks are eight-lane competition tracks.
The upgrade of the Lakeside tracks, which are separate from the stadium, was expected to get underway in September. Flynt says this project should take about a month to complete.
The cost of each track upgrade was about $700,000, and each one has an eight- to 10-year warranty.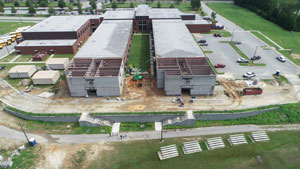 In the next several years, some older elementary school buildings will be replaced with new facilities as well.
Westmont Elementary School, which opened in 1970, was demolished this summer, and construction of a new building will take place at the same location. Site work is expected to begin soon, and the new facility is scheduled to open in the 2024-25 school year with a capacity to hold 875 students.
The school district closed on property in August next to North Columbia Elementary School for the construction of a new building. The school currently has 450 students, but the new facility will have a 762-student capacity. Site work has begun, and the new building is expected to open for the 2025-26 academic year.
The school district tore down the old North Harlem Elementary School building several months ago, and it also plans to decommission the current South Columbia Elementary facility, built in 1968, in the 2024-25 school year. Even though the building will be torn down, Flynt says, the district plans to hold on to the land.
In the private school sector, site work has begun at Savannah River Academy on Old South Belair Road in Grovetown. The school is constructing two new buildings totaling 13,000 square feet, and the expansion is expected to accommodate up to 200 students from preschool to eighth grade.
Construction is underway at Goodwill's Helms College at the corner of Furys Ferry and Washington roads as well. The college is adding a hemodialysis center for students at the former Final Cut site, building a 3,000-square-foot commercial kitchen onsite and converting the former Georgia Bank & Trust building into a welcome center. The 10-acre campus will be just under 100,000 square feet upon completion.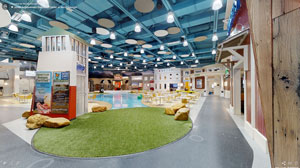 Junior Achievement Discovery Center Planned
The Columbia County Board of Education has partnered with Junior Achievement and the Richmond County School System to add a Junior Achievement Discovery Center at the Student Support Complex on River Watch Parkway.
Scheduled to open in the fall of 2023, the Discovery Center will serve 15,000 middle school students annually and offer two programs – JA BizTown and JA Finance Park.
Through JA BizTown, sixth graders will interact within a simulated economy and take on the challenge of running a business. Because BizTown will be made up of 18 storefronts featuring local businesses, students will realize the opportunities available in their hometown.
"It will look like a little CSRA," says Steven Flynt, Columbia County superintendent of schools.
JA Finance Park lets seventh or eighth grade students experience adulthood and learn how to provide for a household. Guided by an assigned "life situation," students will participate in a simulation that helps them develop skills to navigate today's economic environment and understand how current decisions affect the future.
Flynt says local residents will have opportunities to volunteer with the program, and classroom work will supplement the concepts students learn at the Discovery Center.
The two school districts will split the cost of building the 30,000-square-foot Discovery Center, and Junior Achievement will run the facility.
Currently, the school systems are finalizing the architectural design of the center, which will be the sixth one in the state.