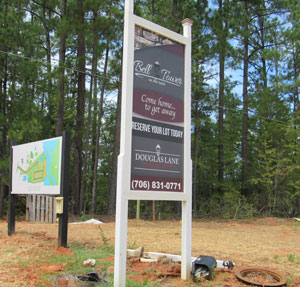 Homes are being built in Columbia County in new neighborhoods such as Bell Tower and River Oaks. Both of these neighborhoods are situated off of Hardy McManus Road. "These are in-fill developments that were originally parcels that were privately owned," says Strickland.
Bell Tower has 67 lots, and River Oaks will have 150 to 160 lots in the entire development.
However, Strickland says, "In past years we have had a lot of residential growth, but new houses and new neighborhoods have waned. Now, we're seeing the need for services for all those folks. We're seeing more commercial development."
In Grovetown, Waller says, "We are continuing construction from some of last year's projects."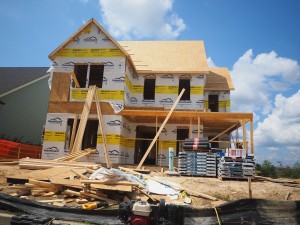 Single-family homes are under construction in the city in subdivisions such as Caroleton and Euchee Lake on Harlem Grovetown Road.
Land clearing for phase II of Joiner Crossing, a community of 83 townhomes on Katherine Street, is underway, and four of 10 apartment buildings in Highland Hills have been built at George and Bennett streets. Both of these developments are located on former mobile home sites.
Activity also continues in the multi-use development of Brighton Landing off of John Huffman Way behind Augusta Tech. The project, which will be completed in six or seven phases, includes single-family homes, townhomes, commercial office space and light industrial development. Currently, land is being cleared and infrastructure is being installed for the first phase of townhomes. 
Construction of Grovetown Crossing 3, a townhouse community on Dodge Lane, has been completed.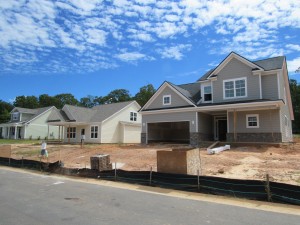 The city, which put a moratorium on multi-family development in April 2017, has completed the first of two phases of rezoning action. The review has been completed on property north of Robinson Avenue, and Waller says, "We rezoned more than 100 parcels to be single-family, detached only."
City officials are in the process of reviewing land south of Robinson Avenue to see if the infrastructure is appropriate for development, and Waller expects the moratorium to extend to the spring of 2019. "When the wastewater treatment plant goes live, we will lift the multi-family development moratorium," he says. "We can develop areas of the city that haven't been able to be developed for the last several years."
The infrastructure is complete, and homes are being built in Harlem's West Forrest subdivision. The infrastructure also has been finished in Cornerstone III and IV. Groundbreaking also started this summer for 95 townhouses in Amesbury, the first multi-family project in Harlem. 
Land clearing and site work is underway in Greenpoint, which ultimately will include 600 homes, on Appling Harlem Road as well. "It will be similar to Riverwood with commercial development in the future, but there are no plans yet," Strickland says.