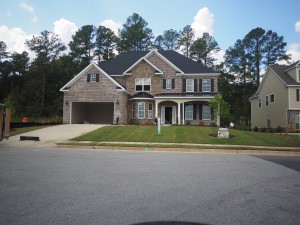 There is plenty of construction underway in Columbia County, but that's just business as usual for this growing area
Growth has become synonymous with Columbia County, as the seemingly never-ending construction projects in the area indicate. Andrew Strickland, the county Planning Services Division director, calls the pace of the growth in Columbia County "a challenge and a blessing."
"Some places see a lot of growth over time, but here in Columbia County, we see growth quickly," he says. "You get one crack at getting it right. We continue to address the needs of newcomers to the community and the existing community as well."
The cities of Grovetown and Harlem also are trying to strike the right balance between long-time residents and new residents.
"We have to know, understand and respect the attitudes and desires of people that have lived here for generations and always called Grovetown home," says John Waller, the city administrator. "We also need to accommodate new folks that are coming here and want certain levels of amenities and quality of life." 
Grovetown officials have worked with elected officials to hire skilled, experienced staff members to help handle growth. Waller also stays in close contact with the garrison commander at Fort Gordon about its plans that affect the city, and vice versa. 
"We need to make sure we are managing growth rather than having growth manage us. We're not a 4,000-person, sleepy town anymore," he says. "As the county grows, the city grows. As Fort Gordon brings in more cyber folks, that continues to bring people in to the city."
Brett Cook, Harlem's city manager, says that allocating time adequately and judiciously is the biggest challenge to managing growth in the community.
"We're making sure that we look at the short term, long term and all the ancillary activities associated with growth. We have to look 20 years down the road," he says. "It's like playing Monopoly. We have to pick out key properties and figure out how to use them. If we're not careful, we'll end up with Mediterranean and Baltic avenues instead of Boardwalk and Park Place."
Harlem also has expanded its staff to include building inspectors, code enforcement officers and a new downtown development director.
"The Columbia County school system brings people to Harlem, and everything on the other end of the county is completely built out," Cook says. "The environment attracts people as well. People from Evans are moving to the Appling-Harlem area. They're looking for a quieter lifestyle." 
According to the U.S. Census Bureau, the estimated population in Columbia County was 151,579 in July of 2017 and 147,450 in July of 2016. In Grovetown, the estimated population in July of 2017 was 14,109 and 13,463 in July of 2016. The estimated population of Harlem was 3,143 in 2017 and 3,018 in 2016.
"Columbia County is just a great place to live because of the quality of life and the school system," says Strickland. In addition, he says, residents have more housing and cultural opportunity choices in the county now.
"Our growth has been really, really phenomenal," says Cook. "Our population has grown by about 12 percent in the last few years. Our tax digest has grown by 25 percent in the last two years – 10 percent in 2017 and 15 percent in 2018." 
Vision 2035, the county' comprehensive plan for growth and development that was adopted in 2016, continues to guide growth in the county. The plan is slated for revision every five years, and the first revision will come in 2021. "This is the community's idea of how growth should happen in Columbia County," Strickland says.
Residents have been responsive at public hearings and in surveys and online town halls about managing growth and development, he says, and one of the most effective ways to manage growth is to "listen to the community because the community knows what it wants." 
"The mood is changing in Columbia County," says Strickland. "Folks want to be involved in the process. Newcomers have taken a lead in getting involved, and that has made folks who have been here a long time take notice." 
From August 1, 2017 through August 15, 2018, the county issued 970 residential building permits and 139 commercial building permits. From August 1, 2016 through August 25, 2017, Columbia County issued 1,213 residential building permits and 92 commercial building permits.
From August 1, 2017 through August 15, 2018, Grovetown issued 250 residential building permits and three commercial building permits. From August 2016 to August 2017, Grovetown issued 232 permits for new residential construction and three permits for new commercial construction.
From August 1, 2017 through August 15, 2018, Harlem issued 102 residential building permits and five commercial building permits. From January through August of 2017, Harlem issued 40 permits for new residential construction. The city did not issue any commercial construction permits during that time frame. 
By Leigh Howard