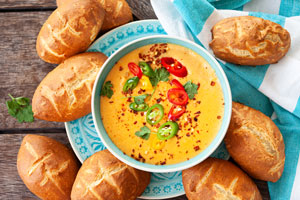 Rolls:
4 3/4 cups bread flour

2 1/4 teaspoons fast-acting dried yeast

1-2 teaspoons salt

2 cups water
Prepare the day before: Put flour, dried yeast and salt in large mixing bowl and gradually stir in water. Use a spatula to bring mixture to a rough, wet dough. Cover with plastic wrap and let sit at room temperature 12-14 hours to rise slowly.
To make footballs, scrape dough onto well-floured surface and shape into a rough ball. Divide into 8 pieces and shape into footballs. Using a serrated knife, score football lacing slits on the top of each roll. Leave on floured surface and cover with a towel or plastic wrap for 20 minutes.
To bake, place an empty, covered Dutch oven (or other oven-safe lidded pot) in oven and preheat to 500 degrees. After 20 minutes, reduce to 425 degrees and remove pot. Carefully remove lid and add dough footballs (do not crowd pot – make in two batches). Replace lid and bake 10 minutes. Reduce heat to 300 degrees and remove pot. Take out rolls and place back in oven on rack. Bake 3-7 minutes more or until rolls are cooked through and sound hollow when tapped. Remove and cool on wire rack. Makes 8 rolls.
Spicy Cheese Dip
8-ounce block cheddar cheese or other melty cheese

1 tablespoon olive oil

1 1/2 jalapeno peppers, diced

1/2 jalapeno pepper, sliced for garnish

1 small onion, diced

4 cloves garlic, minced

5 ounces diced roasted peppers

1 teaspoon cayenne pepper

1 teaspoon smoked paprika

1/2 teaspoon cumin

Salt and pepper, to taste

1 tablespoon cornstarch

12 ounces milk or cream

Hot sauce, to taste

Sliced peppers, red chili flakes and chopped cilantro for garnish
Grate cheese and set aside (do not use pre-shredded cheese). Heat oil in large pan over medium heat. Add diced jalapenos and onion and cook 3-4 minutes until softened. Add garlic and cook another minute until garlic becomes fragrant. Add roasted peppers, cayenne, paprika, cumin, salt and pepper. Stir and cook 2 minutes. In a separate bowl, stir together cornstarch and milk until incorporated; add to pan. Add hot sauce, to taste. Bring to boil, then reduce heat to simmer. Stir in shredded cheese in small batches, continually stirring until melted and well incorporated. Remove from heat and top with red chili flakes, sliced jalapeno and fresh chopped cilantro. Makes 8-10 servings.