An emergency room physician and his son weathered the stress of the pandemic through their shared love of woodworking.
There are few good things to say about the coronavirus pandemic. For a local father and son, however, covid offered an unexpected opportunity to embrace their creative side.
For most of his adult life – and especially during the pandemic – Martinez resident Lou Ciamillo, an emergency medicine physician and associate professor of emergency medicine for more than 20 years, has found solace in woodworking.
The craft became a refuge for his 21-year-old son, also named Lou, during the pandemic as well. Restless from having to take college classes online, he decided to try his hand at woodworking in 2020.
"I started doing it at the height of covid. I was really bored, so I tried it," he says. "I was bad at it at first, but my dad taught me."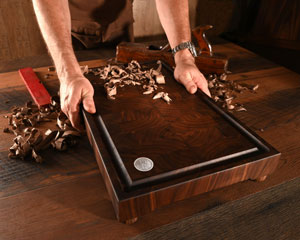 After all, it was hard for the elder Ciamillo to miss his son's growing interest in working with wood.
"Every day when I came home from the hospital, he was making something in the garage," he says.
Following the Process
The elder Ciamillo got his start in woodworking when he and his wife, Pam, built their first home about 20 years ago. His father-in-law, who worked in construction, was the builder, and he wanted to help.
"I bought a few tools, and then I kept buying things. Two years later, I had every tool known to man in my garage," he says. "I got the bug for woodworking and never stopped. Most people have pictures of their families on their phone. I have pictures of wood."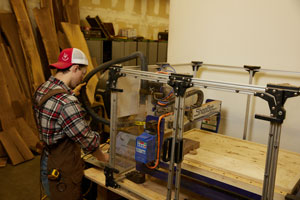 The physician has found that he sometimes uses similar skills sets when practicing medicine and working with wood.
"Medicine requires what I call de-construction," he says. "It gets to a point where you have to figure out what's going on and deal with each thing one at the time and realize the additive effects of what you're doing. In medicine, you have to understand the effects of interventions on other organ systems. That's what I like about the ER. You're basically starting from nothing and building up to something.
"Woodworking is the same. There's a process. You have to de-construct everything to make a product," he continues. "You start with raw materials, and you have to troubleshoot."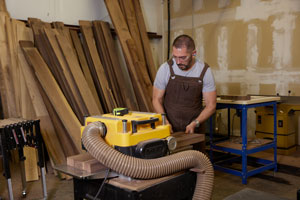 Star of the Show
The Ciamillos make functional pieces, using almost exclusively walnut and pecan, and occasionally sycamore, wood that is milled in South Carolina. Natural finishes on the products let the wood be "the star of the show."
"Every piece has to have its own universe, its own place," the elder Ciamillo says. "We like pieces with a live edge. It gives them a nature element."
The woodworkers use dry, not green, wood with no twists or cupping. They also look at the figure of the grain.
"We lean into the imperfections because I think it makes for a more interesting piece," says the elder Ciamillo.
They now make charcuterie boards, grill boards with handles, double-sided magnetic knife blocks, valet trays, valet trays with a Qi charging tray, whiskey and wine flights, bowls and cutting boards.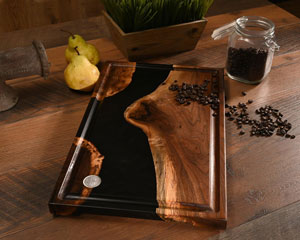 The Ciamillos also designed a wine flight for Cork and Flame and made a walnut tableside cutting board, as well as a whiskey flight, for the Evans restaurant.
It was the younger Ciamillo who first suggested that they try to sell their goods, and in February 2021, they started a Facebook page to showcase and sell their work to finance their hobby.
Their pieces also are available at ciamillowoodworks.com, and they will have a booth at the Aiken's Makin' and Arts in the Heart of Augusta festivals this month.
Creative Days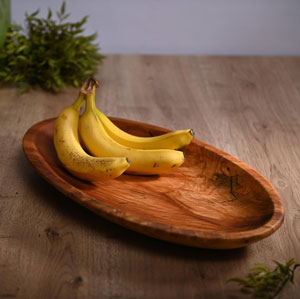 The Ciamillos currently work out of a 2,100-square-foot shop in Martinez, where the younger Ciamillo spends about 16 hours a day woodworking.
"There's no time on the clock for this," he says. "We listen to country music and sing when we do our work. We enjoy each other's company."
Their favorite days are the ones they call "creative days," when they come up with new ideas or make things they've never made before.
The younger Ciamillo often lets ideas roll around in his head, but he never hesitates to ask his father for help. He says his best idea has been making valet trays.
"I'm the type of guy that carries a lot of things in my pocket," he says. "I wanted a valet tray of my own. I thought there are probably a lot of other guys like me."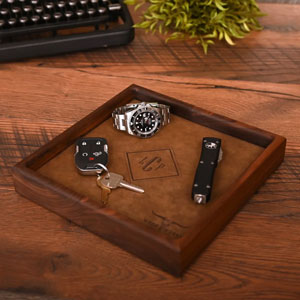 He enjoys 3D modeling and 3D design, and he taught himself how to operate their CNC (computerized numeric control) machine. This machine cuts or moves various materials, including wood. Instead of being controlled by a human operator, the machine's movements are calculated and carried out by a computer on a pre-programmed path.
Father and son love working together, and they share a daily ritual that they never miss. Every afternoon they get a smoothie – dates, raspberries and bananas for the elder Ciamillo and muscle punch for his son.
"Working with my dad is the best choice I ever made," the younger Ciamillo says. "We're very similar. We're both hard-headed and creative. Even on our worst days, I wouldn't want to be anywhere else."
By Betsy Gilliland