The North Georgia mountains offer plenty of activities to entertain visitors in the fall.
With a hint of fall in the air, a relaxing trip to Brasstown Valley Resort & Spa in the North Georgia mountains could be the perfect way to usher in the season. Offering outdoor activities ranging from golf and fishing to horseback riding and hiking, the resort in Young Harris gives visitors a number of ways to get out in the fresh air and enjoy nature.
The area also is an ideal place to experience one of the great joys of fall – leaf changing season – which begins in late September and continues until early November. The vibrant fall foliage starts changing colors at the mountain summits and trickles down to the valley floors.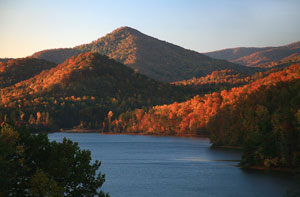 Fun & Exploration
However, it's not just leaf watching that attracts visitors to the Blue Ridge Mountains property. Other activities keep people entertained year-round as well.
Brasstown Valley offers a spectacular mountain golf experience with breathtaking scenery and challenging play. In fact, Golf Digest and Leading Golf Courses of America have ranked Brasstown Valley Golf Course as one of the top Georgia courses to play.
With five sets of tees, all skill levels can enjoy 18 holes of championship Scottish links-style golf on an award-winning course that winds through wildlife preserves, ponds and streams framed by the mountains. The facility also offers full practice options, a well-equipped pro shop and customized special tournaments.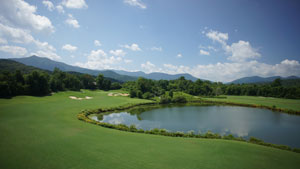 Golf lessons and clinics are offered, and the layout is perfect for a corporate outing, couple's getaway or guy's weekend. Packages include a single round or unlimited play for the avid golfer.
Stream and pond fishing lure anglers to the property. The waterways are ideal for beginners or children, and complimentary equipment is available. Fishing licenses, which are required for ages 16 and up, can be purchased online at gofishgeorgia.com. With advance notice, groups or individuals can enjoy guided fishing as well.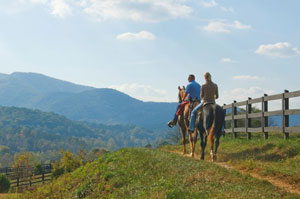 Horseback riding is another way to take in the natural beauty of the area. On the resort's five miles of trails, guests meander through open fields, hardwood forests and crystal-clear streams for some of the best horseback trail riding in the state.
Riders can choose to go on a one- or two-hour excursion, while children 6 years old and younger can saddle up for hand-led horseback rides at the facility's riding ring. Custom excursions, hayrides and catered picnic rides also are available for individual and group outings.
For those who prefer to explore on foot, Brasstown Valley features 9.2-miles of wilderness trails. The Miller Trek, a partnership between the USDA, USFS and the Georgia DNR, begins at Brasstown Valley Resort and extends into the Chattahoochee National Forest.
Along the way hikers will encounter hardwood forest that contains tulip tree, red maple, white oak and black locust trees. About 10 to 15 percent of the trail is located in a clear-cut, which illustrates how quickly these areas regenerate new growth and provide new habitat for wildlife.
On the trail, flowering plant varieties change as the elevation climbs from 2,000 feet to the trail's highest point of 3,200 feet above sea level. Wildlife such as the white tailed deer, red and gray fox, flying squirrels and black bears can be spotted as well.
The orange-blazed 6.5-mile trail also features a shorter 2.5-mile loop blazed in lime green. These trails return hikers to Brasstown Valley Resort regardless of the direction they travel. One hour guided hikes for ages 7 and up are available through the resort's recreation department.
For more entertainment options, guests can enjoy a fitness center, two tennis courts, an indoor-outdoor swimming pool, an arcade and the Equani Spa, which features Cherokee-inspired treatments and services.
Package Deals
The resort also offers several packages to travelers who have specific activities in mind.
The Escape Package includes an overnight stay, breakfast for two and a choice of two activities – 18 holes of golf, a two-hour trail ride on horseback, a Swedish massage or a manicure and pedicure.
The Ultimate Sportsman's Package offers fly fishing, quail hunting or sporting clays for one person for a whole or half-day. Scotch or whiskey tasting in the lobby bar caps off the day.
Outdoorsmen also can enjoy the Angler's Package, which includes a guided whole or half-day fishing trip, followed by scotch or whiskey tasting in the lobby bar. A Georgia state fishing license is required.
Couples can enjoy the Heaven on Earth Package, which features spa services and two breakfast vouchers, or the Romantic Getaway, which offers deluxe accommodations, dinner and breakfast for two, and champagne and chocolates upon arrival.
Girls or Guys Night Out trips offer wine and cheese tastings or a bucket of beer with salsa and chips and a choice of an 18-hole round of golf, two-hour trail ride, manicure/pedicure or Swedish massage.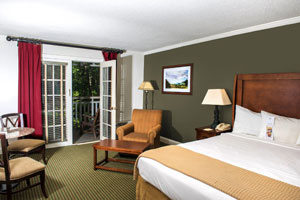 All the Comforts of Home
At some point, travelers will need a place to relax after their full days of activity, and the accommodations at Brasstown Valley include 201 lodge guest rooms, eight four-bedroom log cottages and a deluxe spa suite.
The lodge includes five one-bedroom suites, and 26 of the rooms have fireplaces. Panoramic mountain views can be seen from the lobby, which also features a stone fireplace and oak-vaulted ceilings.
Set back in the woods for more privacy, the cottages are ideal for families or for executive strategic planning retreats. Each cottage has a different mountaineering motif, and a variety of layouts is available. However, all cottages include large covered wooden decks, fully equipped kitchens, a gas grill, a living room, dining room table and half-bath. Many of the cottages have a wood-burning fireplace as well.
The Equani Spa's private suite, a secluded 825-square-foot retreat, features a rooftop deck; a Jacuzzi tub for two that opens to a 46-inch flat-screen TV and fireplace; an "experience shower" with double-drench shower heads, steam, aromatherapy, LED lights and marine speakers with 12-head Swiss shower bars; a kitchenette; wireless Internet service; and views of the mountains, golf course and horse pastures.
The bedroom décor includes a vaulted pine ceiling and stacked-stone gas fireplace with a door to the private deck. The living room also has a vaulted pine ceiling, wet bar, flat-screen TV and space to position two massage tables for a private, in-room massage.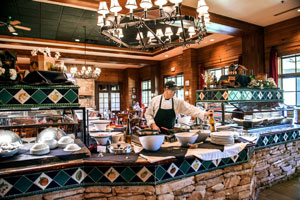 Hunger Games
Brasstown Valley Resort also is renowned for its fine meals, Friday evening seafood buffets and Sunday brunches.
The restaurant's Brasstown Valley Shrimp & Grits – featuring creamy, locally milled grits and jumbo shrimp simmered in a rich Creole sauce – was awarded the 2019-2020 "Georgia's 100 Plates" distinction by the Georgia Department of Economic Development's Tourism Division. The nomination-based list, featured in the fifth annual Explore Georgia Culinary Guide. is a collection of outstanding dishes from around the state that represent its diverse culinary scene.
For more casual dining, Brassies Grill offers a leisurely lunch, quick afternoon snack or cozy fireside dinner. Guests also can play pool or darts or catch the game, race or replays of the day on a big-screen TV.
Other nearby attractions include Lake Chatuge; Brasstown Bald, the highest point in Georgia; whitewater rafting; and vineyards such as High Tower Creek, Crane Creek and Eagle Fork.
By Morgan Davis