Three upcoming festivals offer opportunities to see and celebrate Florida's docile, lovable manatees.
If it's winter in Florida, then the snowbird population is flocking to the Sunshine State. And some of the "snowbirds" have been arriving by flippers rather than wings – as in swimming their way there.
These water-residing "snowbirds" are better known as manatees, which may travel as far north as Virginia or Rhode Island and as far west as Texas during the summer. When they return to the warm waters of Florida in the winter, however, three communities hold fun-filled festivals to welcome them back to the state's natural warm-water springs or power plant discharge canals.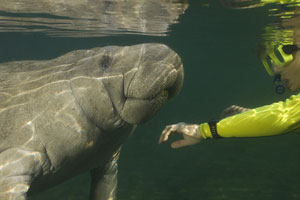 In Crystal River, the Florida Manatee Festival is scheduled for January 15-16. The Blue Spring Manatee Festival in Orange City is set for January 22-23. On February 5, West Palm Beach will hold ManateeFest 2022.
Typically, manatees concentrate primarily in Florida from November to March, preferring waters that are 3 to 7 feet deep.
The Florida manatee, a subspecies of the West Indian manatee, is found throughout the state's waterways such as rivers, estuaries, saltwater bays, canals and coastal areas, particularly where sea grass beds and other aquatic plants grow.
Even though they are related closely to elephants, these herbivores sometimes are called sea cows because, like landlubber cows, they consume a plant-eating diet. They seek safe, protected areas, and the entire state of Florida has been designated as a manatee sanctuary.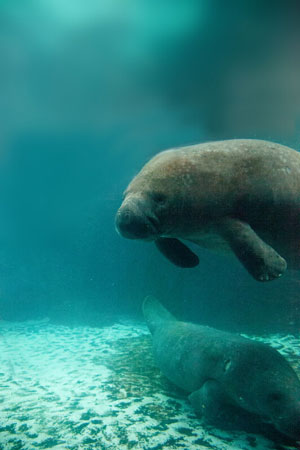 Florida Manatee Festival, Crystal River
Crystal River, about 90 minutes north of Tampa, is one of the few places in the world where people still can swim with manatees. Crystal River wraps around Kings Bay, where more than 70 springs attract hundreds of manatees during cool weather.
This year the 35th annual Florida Manatee Festival will be held 9 a.m. – 5 p.m. Saturday, January 15 and 9 a.m. – 4 p.m. Sunday, January 16 in downtown Crystal River. Admission is $5 for adults and free for children ages 12 and under. Free parking and shuttle service to the festival will be available at Crystal River Mall, 1801 U.S. 19.
More than 20,000 people visit the festival each year to honor the community's most famous winter residents with food, entertainment, music and fun.
The festival will offer two food courts, two beer and wine gardens, live music on four stages, a fine art walk, craft vendors and a children's zone. Visitors also can check out the downtown shops and eateries within and around the festivities.
Back by popular demand, Heritage House Hippie Village is returning with Bohemian crafts, vendors, food and music reminiscent of the '60s and '70s.
Of course, the manatees are the star attraction, and festival-goers can take a manatee boat tour or a guided kayak tour.
Tickets for the boat tours are available for purchase at the dock area in Kings Bay Park at the end of NW Third Street. The cost is $10 for adults, $5 for children ages 6-12 and free for ages 5 and under.
The first tour on Saturday is at 9:30 a.m., and the last tour starts at 4:30 p.m. On Sunday, the first tour goes out at 9:30 a.m., and the final tour launches at 3:30 p.m. Each tour lasts 25-30 minutes, and the captain determines the route based on other boat traffic.
Guided kayak tours are the newest addition to the festival. These tours, which offer an interactive experience of Kings Bay, can be booked in advance.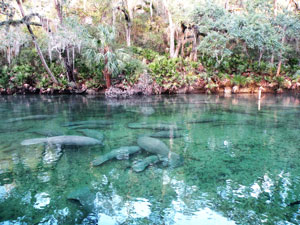 Blue Spring Manatee Festival, Orange City
The 35th annual Blue Spring Manatee Festival in Orange City, about 40 minutes northeast of Orlando, will take place 9 a.m. – 5 p.m. Saturday, January 22 and Sunday, January 23.
Festival activities will be held at Valentine Park, on West French Avenue off of Highway 17-92, and free shuttles buses to Blue Spring State Park for manatee viewing will be available. Overlooks and boardwalks in the park provide great spots for observing the manatees.
Admission is $8 for adults, $2 for ages 4-10 and free for children age 3 and under. Admission for dogs (apparently, the most prized members of the family) is $10.
Proceeds from the event will benefit the Friends of Blue State Park, scholarships and other Orange City organizations.
The festival is more than manatees, however. Activities also will include food vendors, 100-plus arts and crafts booths, face painting, music, dancing, rides, shows, walk-on-water balls, sand sculpting, environmental conservation displays and children's fingerprinting.
Adventurous or competitive types can test their skills at festival games such as rock wall climbing, bungee jumping and the balloon man shooting gallery.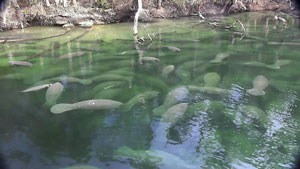 On Saturday, the entertainment will feature the world-famous Disconnected K9's Frisbee Show at 11 a.m., 1 p.m. and 3 p.m. Solo artist Karegan Wodz will perform from noon until 1 p.m., and the live band, Caerbanog, will take the stage from 1:30 p.m. – 4:30 p.m.
The Disconnected K9's Frisbee Show will return for more tricks and treats on Sunday at 11:30 a.m., 1:30 p.m. and 3:30 p.m. Other entertainment will include the Jeff Howell Band from "Monsters in the Morning" 104.1 Real Radio, performing from 12:30 p.m. – 4:30 p.m.
You also can watch manatees at Blue Spring in real time via above-water and underwater webcams at savethemanatee.org/manatees/manatee-webcams/.
ManateeFest 2022, West Palm Beach
Farther south on Florida's east coast, ManateeFest 2022 in West Palm Beach will celebrate Manatee Lagoon's sixth anniversary 9 a.m. – 4 p.m. Saturday, February 5. Manatee Lagoon is a free Palm Beach County educational attraction with a dedicated area for viewing manatees up close.
The waterfront center features hands-on exhibits for visitors to learn all about manatees and the natural wonders of the surrounding Lake Worth Lagoon. On cold winter days, the facility's observation deck is the ideal spot to view manatees basking in the warm-water outflows from Florida Power & Light Company's adjacent Riviera Beach Next Generation Clean Energy Center.
The free annual event celebrates all things manatee with hands-on educational activities including local and state environmental exhibitors, photo opportunities with Lagoon mascot Mia the Manatee, an interactive selfie station, marine life face painting, arts and crafts vendors, a children's fun zone, live music and food vendors.
Visitors also can test their recycling skills in the Recycling Relay Race. In addition, the ManateeFest mobile event app will provide access to all of the festivities as well as a scavenger hunt with Mia the Manatee and Sunny the Solar Tree.
If you can't make it to West Palm Beach for ManateeFest, you can join the activities virtually. A virtual storefront will feature the same environmental and marine-themed vendors and exhibitors as the in-person event and can be accessed from 8 a.m. Saturday, February 5 through midnight Sunday, February 6.
A virtual photo booth, where people can snap a free photo and customize it with backgrounds and stickers, also will be available. Anyone who shares their photo on social media should tag it @ManateeLagoon. Virtual manatee trivia games will be featured during festival hours as well, and the first people to receive the highest scores will win a prize.
If You Go:
Florida Manatee Festival
January 15-16
Crystal River, Florida
gomanateefest.com
Blue Spring Manatee Festival
January 22-23
Orange City, Florida
themanateefestival.com
ManateeFest 2022
February 5
West Palm Beach, Florida
visitmanateelagoon.com
By Morgan Davis