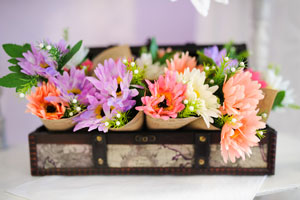 5 simple ideas to bring fun and flair to outdoor dining and décor
There's something about eating outside that just makes food taste better. And your table might as well look pretty while you're doing it. As stunning as Mother Nature is all by herself, it doesn't hurt to lend her a helping hand with some ideas of your own to create a festive ambiance for an outdoor meal.
Flower Cones
Scoop up a serving of your favorite flowers to create a beautiful tablescape with flower cones. Begin by wrapping flower stems in damp paper towels and plastic wrap. Lay on squares of Kraft paper, roll into cones and tie with ribbon. Arrange cones in individual vases at each place setting or combine them in one container for a colorful centerpiece.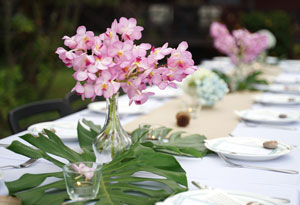 Going Tropical
It's a breeze to create an island-themed table. Start with tropical flowers such as orchids, hibiscus, bromeliads and cyclamen. Add palm fronds and candles and use pretty seashells or stones to hold napkins in place on each plate. Don't forget a tropical playlist.
Tart Smart
Sometimes it's a brilliant idea to play with your food. To make zesty additions to place settings, turn lemons into bud vases. Cut the top off each one and scoop out the pulp (save the pulp for lemonade, cakes, muffins, sauces and marinades). Next, cut a thin slice off the bottom so the lemons will stand up. Fill with water, flowers and greenery, and voila!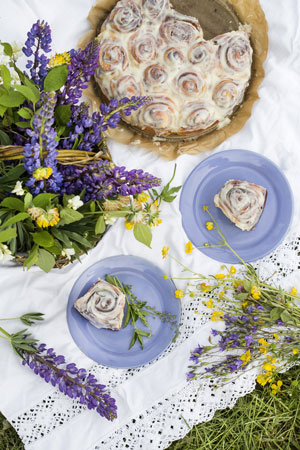 Lavender's Blue
Not all flowers are just for the garden or vase. For a surprising, outdoor-fresh taste of summer, add a dash of minced fresh culinary lavender buds or lavender flower heads (be sure not to use ornamental lavender) to baked goods, icing, jams, ice creams, even barbecue rubs and sauces. Start with a little (a little goes a long way). You can always add more as needed.
Breakfast of Champions
Picnic for breakfast? Why not? It's a fresh and fun way to start the day. Just set a simple table — flowers, plates, napkins and utensils — and bring on the coffee, eggs and OJ. No cell phones or high-tech allowed. Just good conversation, laughter and Mother Nature.