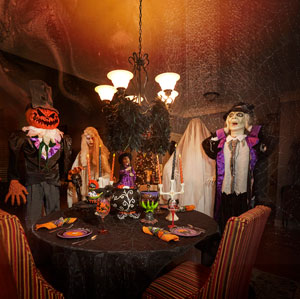 An Evans resident loves to celebrate Halloween with her "kindred souls."
Make no bones about it. Some people believe their skeletons belong in a closet. Not Lynn Pawlak of Evans, though. She proudly displays her skeletons – and ghosts and mummies – out in the open at her Barrett Place home every Halloween. After all, it's no secret that she loves the holiday.
"This is a fun time. I celebrate Halloween. I don't have anything gory, so it doesn't upset anybody," says Lynn, who moved to her home four years ago. "I decorate for every holiday, but not to this extent for the others."
Cast of Characters
With a couple of ghouls poking up through the ground among a trio of tombstones in a flowerbed, her front yard tells the tale of her love story with Halloween – and offers a preview of what's inside.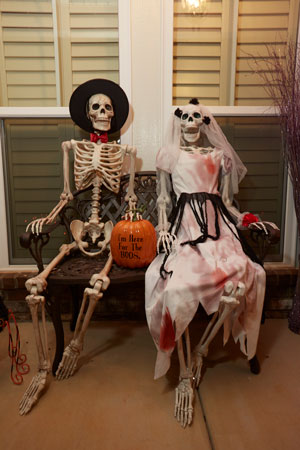 On the front porch, a bride and groom skeleton sit side-by-side on a bench. The groom is outfitted in a black hat and a red bowtie, while the bride is fetching in her long white gown that's accented with a black sash and a subtle splash or two of blood. Their hands rest on an orange pumpkin between them that says, "I'm Here for the Boos."
Lynn has had the groom for about 10 years, and she found his bride four years ago. When he was still a single skeleton, she would seat him at a table for parties. "People couldn't help but rearrange him," she says.
The wicked witch from Snow White, clad in black and clutching an apple in her bony fingers, also sits on the front porch next to a cauldron full of bones. A big black spider clings to a white column by its giant black web.
A decorative Halloween flag flies from the front porch, and lighted Halloween picks add a spark to a pair of planters. A wreath with a pointy purple witch's hat and dangly witch's legs hangs on the front door.
The witch and skeletons have more life-sized companions inside the house. A mummy – yes, its name is Mummy – welcomes visitors from the hallway to Lynn's Halloween haven. Mummy is holding a black long-stemmed rose and sporting a black pointed witch's hat that curls into a point.
"I added all the little touches to the mummy," Lynn says. "I made it into a witch because it was unisex. I said, 'Let me fix you up.'"
A black tree, wrapped with a shimmery black and orange tree skirt at the base and topped with a Halloween bow, is filled with Christopher Radko and Brighton Halloween ornaments. "Now that I have this tree, I started getting myself some nice ornaments," says Lynn.
Mummy is well positioned to keep a bandaged eye on Harry, a talking mechanical ghost that plays music and pulls his head off of his shoulders. "He reminds me of Beetlejuice," Lynn says of Harry. "He was one of the first mechanical things I got."
Of course, Harry isn't trying to frighten anyone when he lifts up his head – it's a practical matter. "I need to get a better view of the situation," he explains in one of his many comments.
A lamp, where black spiders dangle from a spider web-covered shade, sits on a table in the foyer. The lamp is joined by a spidery candle on a mummy candlestick, a pumpkin, a skeleton head, a small Halloween tree and a table runner with silver spider webs.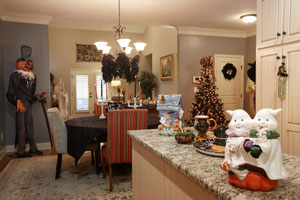 Halloween Treats
Lynn's appetite for Halloween extends into her kitchen. As fate would have it, she won a Halloween cookie jar at her first Bunko party, and it sits on one of the granite countertops.
Halloween bowls, wine glasses and a pair of witch's shoe-shaped wine bottle holders sit atop the counters as well. A witch tassel dangles from one cabinet knob and a skeleton tassel hangs from another.
A candy corn dish towel hangs from one cabinet door, and a duo of Halloween dish towels are draped over the oven door handle.
If any question remains about Lynn's affection for Halloween, a peek inside her cabinets will clear up any doubts. She has shelves full of Halloween wine glasses and plates, and a drawer is full of Halloween spreaders.
"I am a huge collector of Halloween dishes," she says. "Each one has a different saying on the front and back."
The riddles on the plates add to the fun. What do witches put on their hair? Scare spray. When is it bad luck to meet a black cat? When you're a mouse. What do you call a fat jack-o'-lantern? A plumpkin.
In the adjoining dining area, another talking mannequin, Pumpkin Man, guards the space from a corner. Not that there is anything discreet about his presence, though. His is dapperly attired in pin-striped pants, a black jacket with purple lapels and a top hat, and one of his orange hands rests on a cane with a skull for a handle. His face also lights up when he says silly things.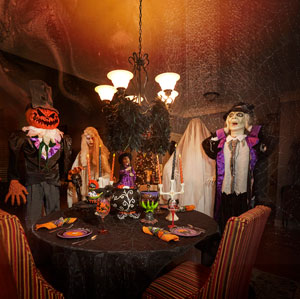 Pumpkin Man is joined by a ghost with long black hair – one of the newest members of Lynn's Halloween entourage. "I got her last year at the end of the season," she says.
A black tablecloth with a glittery spider web pattern covers the round table, and two candelabras holding Halloween candles sit on top of the table on either side of a Halloween bowl. A black feather boa with shimmers of emerald green is draped on the chandelier. Someone at an Elton John concert gave the boa to Lynn after she admired it.
Savvy Shopping
With spooky red eyes, another ghost named Annabella watches over the great room from a corner. "People have asked me if it bothers me to walk through the house at night with all of the mannequins everywhere. It doesn't bother me at all," says Lynn.
Well, there is one exception. "When I lived in Jones Creek, Annabella was on the landing, but I had to put her in a bedroom," Lynn says.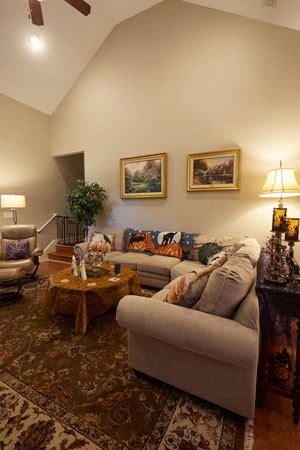 Evidently, her prominent positioning was too creepy at night even for Lynn. In her new home, however, Annabella's post is a bit more palatable.
The hardwood flooring in the house extends into the great room, which also features a cathedral ceiling, two Thomas Kinkade paintings and a collection of signed Hummel figurines. A freestanding bookshelf, full of Halloween knick-knacks, sits on either side of the fireplace with a brick surround. In the center of the wood mantel, a pair of hands with black fingernails reaches upward, and the head of a snake-haired Medusa occupies one end. Don't stare at her for too long, though, or you'll turn to stone.
A witch sits in front of the fireplace next to a basket full of eyeballs, and the round coffee table is covered with a spider web tablecloth. A small gold tree on the table holds more Christopher Radko ornaments.
Black cats and jack-o'-lanterns peer into the room from a Halloween throw blanket, which is draped on the back of the sectional couch, and pillows featuring a raven and a pumpkin are tucked on each end.
Ceramic Halloween village pieces, which Lynn has had for decades, line a skinny table behind a section of the couch.
"Ninety percent of my Halloween decorations, I have collected through the years. Most of them were on sale," says Lynn. "A lot of the things I got when I was younger. Once a year I would buy a major item."
In the back hallway, the face of a friendly scarecrow smiles at passersby from the powder room door. "I got him in Germany at an American craft fair," says Lynn.
The powder room features a pedestal sink, and the Halloween décor includes mats, hand towels and pumpkin hand soap.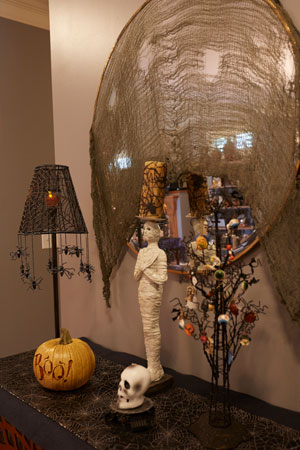 Sharing the Fun
Lynn bought many of her smaller Halloween decorations when she went shopping with a like-minded friend she has known more than 30 years. Their shopping sprees continued even after they lived in different places. "We would send Halloween baskets to each other," Lynn says.
Because of the Army careers of her father and her former husband, Lynn has lived all across the globe and shared her love of Halloween with her many international friends wherever she went.
"You get to dress up. When I lived in other countries, I got to introduce Halloween to the people there. I trick-or-treated until I was 14," says Lynn. "To me, Halloween has always been about fun. Everybody can participate."
She also likes to entertain, and naturally, her Bunko group and book club meet at her house for their October gatherings. Lynn has extended that same generous spirit to her young neighbors since she moved to Barrett Place.
"I open my door on Halloween and let the kids see what the mannequins can do. But I always ask them first if they want to see it," she says. "They know this house is entertaining. I enjoy seeing the children, and I have such great memories of Halloween all over the world."
As for any plans to shop for bargains after Halloween this year, however, Lynn emphatically says, "No. I'm done."
Except perhaps for another Brighton ornament or two for her tree. . ..
By Betsy Gilliland