A family of three, plus their menagerie of animals, enjoy back-to-nature living at their Harlem home.
When Terri and Patrick Colley decided several years ago to sell their Summerville house so they could move to Columbia County to be closer to family, they weren't kidding around.
They built their new house on 2.5 acres of family land in Harlem, where their closest neighbors were Patrick's mother, his aunt and uncle, and two of his cousins and their families. (A fourth cousin has since moved to the property as well.)
The land where the Colleys and their extended family live originally belonged to Patrick's late grandfather, Weldon Hair. At one time, he owned more than 500 acres in Harlem.
"We call anything out here Weldon's Woods," says Patrick.
However, they also have left their own imprint on the territory. For instance, as the contractor for the house, Patrick built it himself in eight months. He did the framework, trim, doors, electrical work and some of the masonry work, and they moved into their home in February 2018.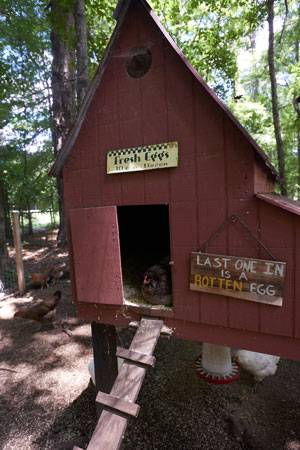 They decided to make sure their house was distinctive as well. Their last residence was white brick with white shutters, and they originally planned to paint their new home white until Terri had a change of heart.
"When we designed the house, I thought I wanted a white house, but I kept going with blue. It's a very dramatic blue," she says. "I thought, 'I am going to stand out, and I'm going to paint my house blue.'"
Their self-sufficiency extends beyond the construction of their home, however. The property includes a garden where they grow corn, squash, peppers, green beans, sunflowers and zinnias. "Hummingbirds and butterflies love the zinnias," Terri says.
They clear pathways in the woods that they have given names such as the Chicken Trail or the Pirate Trail. The Hair Trail, which is lined with stones and solar lights, leads to the home of Patrick's aunt and uncle.
Of course, their house, where they love making memories with their 7-year-old son, Brundage, which was Terri's grandmother's maiden name, needed a proper name as well. They fittingly christened it the "Blue House in the Woods."
The Colleys also live among another extended family of the furry or feathered variety. This menagerie includes four goats, two donkeys, two horses, a chocolate lab named Shelbie, a rooster named Danny after Danny DeVito (they also call him "Little Man") and lots of chickens.
The horses – Reign and Stella – and the donkeys – Jacob and his mom, Jubilee – live on Patrick's mother's 15 acres across the street. The four goats – Clover, Shiloh, Feta and Normandy – live on that property as well.
"This is our funny farm," says Terri. "All of the animals talk to me, and they all have their own little voices."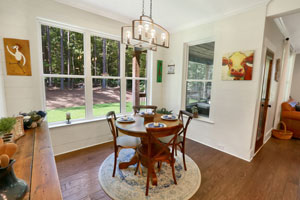 Handy Work
While many aspects of their lifestyle are a throwback to simpler times, the Colleys used a decidedly contemporary method to find house plans.
"We saw a house on Pinterest that we liked, so I took that layout and moved a few things," Patrick says. "The house on Pinterest was 6,000 square feet, but we didn't have the footprint for that."
They moved the laundry room downstairs, added a 6-foot pantry, extended the closet in Brundage's playroom and added a Jack-and-Jill bath between two second-story bedrooms.
Their handiwork is evident in the décor of the house as well. For instance, Patrick built the living room coffee table, along with the breakfast area table, out of pinewood.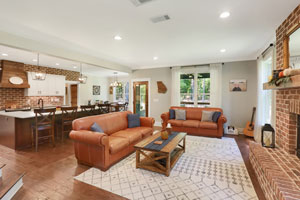 A Harry Potter-like broom that Terri made out of forsythia and cedar wood stands next to the raised hearth brick fireplace with an oak mantel.
"I'm a nature person," she says. "I also love to decorate with fresh garland and holly."
The house has an open floorplan where the living room adjoins the kitchen, and design elements, such as the Beartooth mountain oak tongue-and-groove flooring, tie the rooms together. The hand-cut brick kitchen backsplash, which Patrick made as a birthday gift for Terri a year after they moved into the house, matches the brick on the fireplace.
Patrick also made the vent hood from a piece of rough-cut lumber. "I enjoy doing things with my hands," he says. "I can pretty much do anything, but sometimes you have to let other people do some things."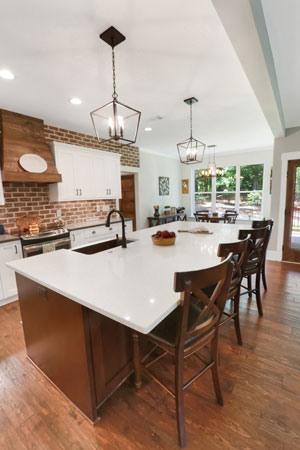 The kitchen also includes quartz countertops, stainless steel appliances and a hammered copper sink. A cutting board features Terri's Grandmother Brundage's pound cake recipe etched on it in her handwriting, which was taken from a napkin where she had written it down.
In the connecting breakfast area, the Colleys hung some of their favorite artwork including two chicken paintings on the shiplap walls. Folk artist Ernest Lee, aka "The Chicken Man" of Columbia, South Carolina, did one of the paintings, and his son, Scottie, painted the other.
Terri displays some pieces by one of her favorite potters, Wade Franklin of Louisville, Georgia, on a sideboard. She painted the wood quilt square that hangs on a breakfast area wall.
Sentimental Treasures
Other prized artwork is scattered in different rooms throughout the house. Every year, Terri chooses a favorite photo and has a North Augusta artist create an oil painting of it to give to Patrick as a Christmas gift.
In 2020 she gave him a painting of Brundage atop his shoulders, and the 2019 painting depicts his Grandfather Hair as a young man, circa 1955, on the property where their house now stands. His grandfather is crouched next to a cornhusk trimmer that he invented, and his blue car is in the background.
A painting of their current home, Terri 's 2018 present to Patrick, hangs in the dining room. Others feature their first house in Summerville and Hunter, Shelbie's dad.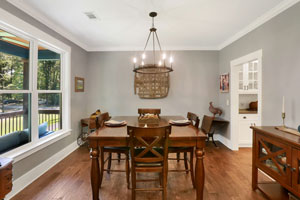 The wood for all of the frames came from the original house on the property. "The wood from the old house had a lot of termite damage, so we had to use small pieces of it," says Patrick.
Terri and Patrick, who both have large families in the area, also like to celebrate holidays and birthdays by entertaining, and a separate dining room offers another place for them to seat their guests.
"We have so many tables and countertops where we can eat, so it's nice to have the table to entertain," says Patrick.
The dining also is full of sentimental treasures that chronicle their life together. A piece of wood, which serves as a base for a trio of pumpkins atop a chest, might look nondescript at first glance. However, Terri found it at Lake Hartwell when she and Patrick were dating, so it has special significance to the couple.
A candelabra, which belonged to Patrick before they were married, sits on an old sewing table in a corner of the room. They used it for their marriage ceremony, and it still has wax on it from their wedding day.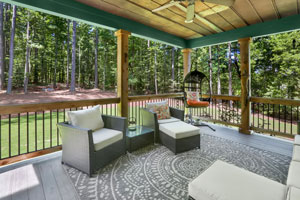 A large tobacco basket, which was a housewarming gift from Terri's sister, hangs above a chest in the dining room.
Other dining room furnishings include a teacart and an old wooden school desk where carvings such as "The teacher's crazy" are visible.
"I like antique shopping," says Terri. "I just wish these things could tell stories. Every time I buy something, I want to know where it came from."
Patrick made the barn door that leads to Terri's sewing room with aged oak, which matches the vent hood in the kitchen and the fireplace mantel.
Another wood quilt square that Terri painted hangs in the sewing room, but she creates the real magic with all of the fabric she stores on shelves and in filing cabinets.
"I have an obsession with fabric," she says. "I have a problem any time I go into a fabric store."
Terri initially tried to learn how to sew when she was in first grade, sewing a button onto a piece of fabric for Show and Tell. However, she didn't pick it up again until Brundage was a baby. She makes her son's Halloween costumes every year, and she also makes cloth baby shoes, which she calls Little Souls, for newborns at their church.
Outside World
When she isn't sewing, Terri loves to spend time on the back porch, where the ceiling is made of 100-year-old metal from the original caretaker's house. Shelbie added a decorative touch to it as well. Before they put up the ceiling, she left pawprints on the metal when she walked across it. "I said, 'I'm not going to wipe them away,'" says Patrick.
The décor also includes wicker furniture, a triangular dinner bell, a wall-mounted tealight in a firefly-shaped frame, a monkey wrench that belonged to Patrick's grandfather and a swing chair in the corner.
"This is my favorite chair. This is where I read," says Terri. "With the way the house is positioned on the lot, there's a constant breeze on the back porch."
The backyard is full of play things for all ages. Patrick used stones he found on the property to construct a firepit. He also built the treehouse, where the cousins' children leave notes for each other in its mailbox; chicken coop; goat house and pole barn. "I like to be outside doing yard work or building things," says Patrick.
They also have a zip line and ninja line, which is like an obstacle course, in the yard. "The zip line is fun," says Terri. "We put it up a little higher for the adults."
The roof of the chicken coop, where the Colleys raise their leghorns, Easter eggers and Americanas, also was made from the metal from the caretaker's house. Terri painted a sign that says, "Last one in is a rotten egg," and their brood of chickens answers to names like Bojangles, Gray, Duchess, Lady May, Happy Feet and Gizmo.
"I love my chickens. They all have different personalities," Terri says. "I clean their coop once a week. I have six nesting boxes, but they all want to nest in the same box."
The chimney from the original house and the old smokehouse still stand on the property across the street. The Colleys like to fill the chimney with firewood and roast marshmallows.
When they sit by the fire, they undoubtedly have plenty of stories to tell – past, present and future – about life in their blue house in the woods.
By Betsy Gilliland