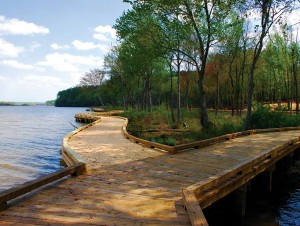 It's easy to enjoy a day along the Savannah River. But why not enjoy an evening of fun and entertainment along the river as well? Central Savannah River Land Trust will hold its annual Bash on the Banks on Thursday, October 29 at the River Island Clubhouse.
The Bash will showcase more than 100 acres of riverbank that have been protected by the Land Trust. However, the natural setting is not the event's only attraction. The Unmentionables will provide live music, and Bird Dog Grille and T's Restaurant will cater the meal so that people can enjoy an oyster roast and shrimp and grits. A cash bar will be available as well.
"The Bash is a celebration of our conservation successes," says Alison Nelson, the CSRLT communications director. "We want people to partner with us and join with us in our mission to continue our efforts of conservation of special areas in the CSRA. Not only is it a time for celebrating our conservation success and joining with our members and supporters that help us to continue our mission. It's also just an old-fashioned good time."
A group of Phinizy Swamp Nature Park board members and volunteers founded the Land Trust in 2001, and Deke Copenhaver became its first director. The nationally accredited nonprofit organization is funded entirely by charitable donations and grants, and it has protected more than 6,000 acres of land throughout the Central Savannah River Area. Currently, the Land Trust is working on a number of projects that will preserve thousands of additional acres in the area in the next three to five years. These projects include a piece of property in Harlem, which the Land Trust owns and is working on restoring for public use.
"Since the beginning the Land Trust's focus has been on the wild, natural, unique and irreplaceable natural areas found throughout our community," says Hazel Cook, executive director. "Our mission is to preserve these areas that are integral to our community's character and quality of life – forever."
The Land Trust started its work in Columbia, Richmond and McDuffie counties. Through the years, however, it has expanded its conservation efforts into Aiken, Edgefield and Barnwell counties in South Carolina and as far upstream as Hart County and as far south as Statesboro in Georgia.
The organization has worked with local governments as well as individual neighborhoods and communities to preserve areas for public recreation and for residents' recreation in neighborhoods such as River Island. In addition, the Land Trust has joined forces with private landowners, farmers and ranchers to preserve natural resources in the area.
"Folks drive by many of these properties every day without even knowing it," says Cook. "But I guarantee they'd miss the trees and the fields if they were to disappear."
The Land Trust focuses its efforts on protecting large areas of natural habitat, the major sources of our drinking water, larger forests that purify the air and grand vistas that offer scenic views.
"Public recreation is just a small part of what we do," Cook says. "The beautiful headgates and park area near the Savannah Rapids Pavilion is a great example of a property preserved by the Land Trust, which is open to the public for recreation. 
Although the Savannah River runs through a metropolitan area of more than 500,000 people, much of the river remains untouched by development.
"It is the source of our drinking water, the powerhouse behind many local industries, the place where we spend a lazy Saturday with our kids swimming in the lake or fishing or kayaking. The list goes on," Cook says. "Seriously where else can you find a major metropolis with such a rare and precious – and relatively unspoiled – resource at its doorstep?"
While the region has modernized in many ways, she continues, the local forests, fields, wetlands and greenspaces enhance our quality of life. In addition, because the CSRA is located on the fall line where the Lowcountry's coastal plains meet the Upstate's mountainous Piedmont region, the area has a diverse ecology that includes many rare or endangered plants and animals.
"While progress is certainly wonderful, if it comes at the expense of our local environment, we will all be at a loss," says Cook. "The Land Trust is so important because we are preserving that, for everyone, in all parts of our community. And we are guaranteeing that we will be the guardians of these special places forever."
If You Go:
What: Bash on the Banks, benefiting Central Savannah River Land Trust
When: 6 p.m. – 9 p.m. Thursday, October 2 
Where: River Island Clubhouse, Evans
How Much: $50 per individual; $90 per couple. Tickets to the event and drink tickets are available online at csrlt.org/events/ or at the door. Tickets also can be purchased by mailing a check to Central Savannah River Land Trust, Attention Bash Tickets, P.O. Box 148, Augusta, GA 30903.