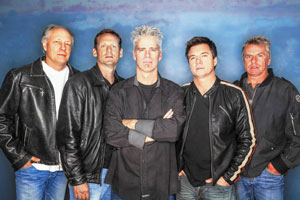 Innovative concerts blend music and entertainment.
When Augusta Symphony performs, the show is bound to be magical. However, a performance on Thursday, March 7 will conjure up a bag of tricks in the literal sense in Symphonies of Illusion with Michael Grandinetti. Tickets range from $36 – $100.
Grandinetti combines cutting-edge magic and illusions with music and suspense. One of the stars of the hit CW television series "Masters of Illusion," he has entertained with symphonies nationwide as well as at NFL halftime shows and the White House. During the National Independence Day Parade in Washington D.C., Grandinetti levitated a girl high above one of the floats as it moved down Constitution Avenue.
In a benefit concert on Saturday, March 16, the symphony will perform with Little River Band, which set a record for having Top 10 hits for six consecutive years. Proceeds from the concert will benefit the symphony's education projects and Community Chords, a music therapy program in partnership with the Charlie Norwood VA Medical Center.
Orchestra members have played regularly at the uptown and downtown VA throughout the season, participating in music therapy sessions with veterans who are working to reduce symptoms of stress, PTSD, pain and depression. Concert tickets range from $45 – $95, and patrons will have an opportunity to sponsor a ticket for a veteran when they purchase their tickets.
A Saturday, March 23 performance, Tragedy & Triumph, will feature Augusta Symphony concertmaster Anastasia Petrunina. The concert will include Strauss' Death & Transfiguration, Mendelssohn's Violin Concerto and Tchaikovsky's Symphony No. 5.
Petrunina has played around the globe in prestigious venues such as Carnegie Hall and Great Hall of Moscow Conservatory. She has toured extensively in Russia, the United States, Brazil, Croatia, Hungary, Italy, Spain, Sweden and China. She also took part in recording music for the 2014 Olympics in Sochi, Russia.
Walk-up tickets will be available for purchase for $10 for students and military at the box office beginning an hour before the concert. A student is anyone under age 16 or older than 16 with a valid student ID. Tickets range from $22 – $67.
These three performances will begin at 7:30 p.m. at the Miller Theater.
As part of its Family Concerts at Columbia County Series, Augusta Symphony returns to Evans Sunday, March 24. The audience will hear Prokofiev's symphonic fairy tale, "Peter and the Wolf," in which each character is depicted by different instruments and musical themes, and Ravel's musical illustration of the Mother Goose Suite. The performance begins at 4 p.m. at the Jabez S. Hardin Performing Arts Center. Tickets are $30 for adults and $10 for students.