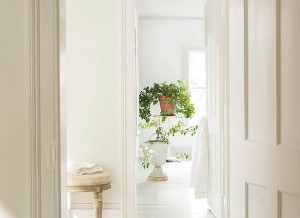 The newest color trend for 2016 just might surprise you.
White outs are definitely in this year – especially for the home. Just ask the experts that bring us the latest news on all things color. Sherwin-Williams has named Alabaster its 2016 Color of the Year, Glidden has chosen Cappuccino White and Benjamin Moore says it's all about Simply White.
Yes, white.
Because white is a blending of all colors, according to colormatters.com, it is – in fact – a color. So there.
"Alabaster represent a straightforward and necessary shift to mindfulness. It provides an oasis of calmness, spirituality and 'less is more' visual relief," says Jackie Jordan, Sherwin-Williams director of color marketing. "Alabaster is neither stark nor overly warm, but rather an understated and alluring white."
Sherwin-Williams offers a number of ways to showcase Alabaster in the home. Use it to set the tone for healing, rest or meditation in a bedroom or nursery. Make a statement with it as a chic, stand-alone hue in an entryway or home office. Pair it with light blushes or grays to bridge transitional and traditional styles. Create a yin and yang harmony with contrasting dark colors in a spa-like bathroom.
White exemplifies style, the Benjamin Moore experts say, so it works for colonial, contemporary and every architectural type in between.
"The color white is transcendent, powerful and polarizing – it is either taken for granted or obsessed over," says Ellen O'Neill, Benjamin Moore creative director. "White is not just a design trend, it is a design essential. The popularity of white, the necessity of white, the mystique of white is quantifiable in our industry. Of the top ten best-selling Benjamin Moore colors, variants of white occupy five spots. It was inevitable that we would ultimately recognize white as our Color of the Year."