The Lydia Project and area healthcare professionals launch a new program for post-cancer care.
A cancer diagnosis is a life-changing event for anyone. So is life after cancer once the treatments end. Oftentimes, however, survivors don't know where to turn for the continuing support they need.
Enter The Lydia Project and area healthcare facilities. They have partnered together to launch a new educational series called Now What? to help cancer survivors cope with life after the illness.
Community partners in the program, which begins in April, include Georgia Cancer Center of Augusta University, University Health Care System Cancer Services, Doctors Hospital and Livestrong at the YMCA.
"What makes Lydia work is the people who care," says Michele Canchola, executive director of The Lydia Project. "It's the partnerships with the people in the community and the companies that support us that make all this work."
While The Lydia Project traditionally provides free services to women and girls who have been diagnosed with any type of cancer, Now What? is open to anyone – including men – going through, or who has gone through, a cancer treatment or diagnosis.
Now What? sessions will be held in addition to the speaker events that are held at The Lydia Project headquarters on the second Saturday of every month.
In the four-part Now What? series, cancer survivors will get information about long-term and late effects of treatments, nutrition, exercise and encouragement for emotional issues.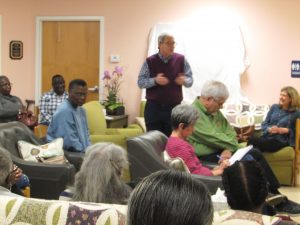 "Depression can be a greater challenge than the cancer diagnosis," says Canchola. "The fear of recurring cancer is patients' number one concern."
The sessions will be held 3 p.m. – 4 p.m. on Tuesdays at The Lydia Project, 1369 Interstate Parkway, Augusta. Individuals can attend any or all of the four sessions in any order, but space is limited to about 15 people per program.
"It's so hard to struggle with cancer and all of the things that happen afterward," Canchola says. "People need a place to go when they don't have support or other family members don't understand."
Currently, The Lydia Project provides support for more than 1,000 women and girls, and the nonprofit receives an average of 400 new referrals a month. Self-referrals can contact The Lydia Project for tote bags, emotional support and prayer.
Through referrals from oncologists, female cancer patients can receive financial support for rent, utility bills, medical supplies, prescriptions or overnight lodging at the 10-bedroom Daksha Chudgar Lydia House during cancer treatments.
Male and female patients receive transportation to and from cancer treatments. In addition, Canchola says, "The Lydia Project is writing grants to fund other services for men."
While Lydia reaches patients across the world, Canchola says all of the financial support stays in the local area for cancer patients who reside in Columbia, Richmond, Burke and McDuffie counties in Georgia and Aiken and Edgefield counties in South Carolina.
Reservations for Now What? sessions can be made by calling (706) 736-5467. For more information about The Lydia Project, visit thelydiaproject.org.