This year more than 650 children will have a Merry Christmas because of the Salvation Army of Augusta Angel Tree program. Through the generosity of corporate sponsors and individual donors, the Angel Tree program brings the joy of Christmas to local children whose families otherwise would have difficulty providing gifts for them.
"There are many families that are in need this time of year, and we want their children to have a wonderful Christmas," says Captain Elaine Canning of the Salvation Army. "Those of us who have been blessed can provide blessings for a child in need. As a nonprofit, we rely on the generosity of our donors to make Christmas happen for these children."
Angel trees are located at the Kroc Center, Augusta Mall and area Subway restaurants, and gifts for angels are due by Friday, December 2. However, additional donated gifts will be accepted the following week at the Kroc Center, 1833 Broad Street, Augusta, as well. Volunteers also are needed to sort, organize, bag and distribute food, toys and stockings at the Salvation Army Christmas Warehouse. Various shifts are available.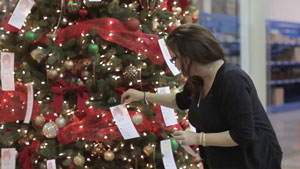 Angels range in age from birth to 12 years old, and each angel tag includes the child's first name; age; gender; shoe, clothing and coat size; and three toy suggestions. Popular gifts include arts and crafts supplies, balls and other sports equipment, dolls and board games.
Parents completed an eligibility form to apply for the program, and each family picks up the gifts by appointment.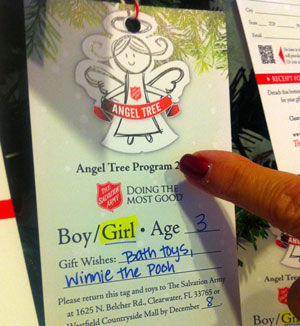 The Angel Tree program was started in 1979 in Lynchburg, Virginia, and this program, along with the familiar red kettles, is one of the Salvation Army's highest profile Christmas efforts. 
"We couldn't have an Angel Tree or all of the programs that the Salvation Army offers throughout the year without the support of the community and our sponsors," Elaine says.
For more information, visit salvationarmyaugusta.org.