A local food blogger shares some of her favorite summertime recipes for drinks, salads and a no-cook dessert.
Food blogger Katelyn Youngblood grew up learning to cook from her mother, grandparents Nona and Pop, and great-grandmother Mammaw.
Even her great-uncle Richard taught her childhood self how to make a cheesecake. When other children watched cartoons on TV, she tuned into the Food Network.
"I have always had a love for cooking, baking and being in the kitchen. It's a way to destress after work, be creative and do something I enjoy," says Katelyn, who works at a local law firm during the day.
The Dearing resident took her skills to the next level when she enrolled in the Culinary Arts program at Helms College and became a member of its first graduating class.
In 2019, she founded Sweet & Sassy Apron and started an Instagram page, @sweetandsassyapron, where she posts recipes. However, she says, "My main focus is to support local businesses and farmers' markets."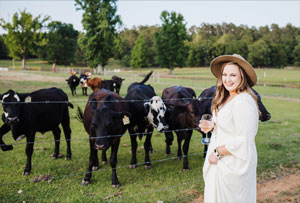 The kitchen is her happy place, and she loves to find fresh ingredients at farmers' markets in Evans, Augusta and Thomson.
"It's so important to cook for your family," Katelyn says. "It's so important to sit down at a table for a home-cooked meal and talk about your day."
Even though she has a box full of her great-grandmother's recipes, Katelyn has developed about 90% of her recipes on her own. "I start from scratch, find out what works and tweak it," she says.
She shares some of her favorite summer recipes with us this month (https://columbiacountymag.com/food), and she also can be found online at sweetandsassyapron.com or facebook.com/sweetandsassyapron/.
By Kendall Bryant