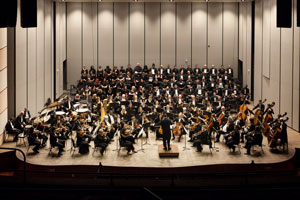 Augusta Symphony will introduce new concepts and present time-tested classics for the 2022-23 season.
It's always good to try something different. With its upcoming season, Augusta Symphony has planned a diverse, fun-filled concert lineup for the 2022-23 season — and Dirk Meyer, music director and conductor, can't wait to get started.
"I really love to play and conduct some of the repertoire, and I'm thrilled with all of the soloists," he says.
The entertainment begins on Friday, September 30 when pianist Joyce Yang accompanies the orchestra on Opening Night for the first concert of the Symphony Series. "It's always really fun to work with her," Meyer says.
Favorites and Percussion Fireworks
In other Symphony Series performances, Meyer will conduct some of his favorite pieces by some of his favorite composers.
They include Sebelius Symphony No. 2 in Mahler & Sebelius on January 7 and Bruckner Symphony No. 4, "Romantic," in the season finale, Rachmaninoff & Bruckner, on April 29, when pianist Alexander Korsantia performs with the orchestra.
Meyer calls Mahler, whose Symphony No. 10, "Adagio," also is featured in the January concert, and Brahms, whose Symphony No. 4 will be part of the Elgar & Brahms concert with cellist Gabriel Martins on Friday, November 11, some of his favorite composers.
Other musicians who will accompany Augusta Symphony this season include percussionists Gene Koshinski, who performs with Meyer in Minnesota, and Tim Broscuis when they appear on Saturday, February 18 in Tchaikovsky and Percussion Fireworks.
"Both of them have 50, 60, 70 instruments to play. They hit everything they can," Meyer says.
This performance also is the Symphony's Discovery Concert, which annually provides more than 1,000 elementary, middle and high school students, including homeschoolers, with opportunities to experience a free live symphonic performance. The concert will take place Friday, February 17, and the percussionists will perform Koshinski's composition "soniChroma" on metals, woods, strings and non-Western instruments that will create unique sonic colors.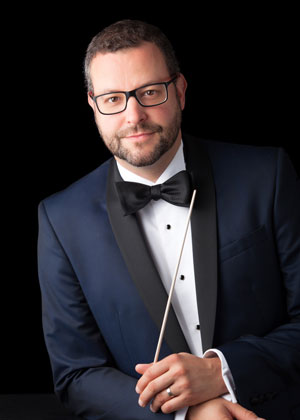 Popular Demand
As part of the Pops! Series, Broadway Tonight! will feature Broadway veteran Doug LaBrecque, who will bring along the newest young talent from The Great White Way. These performers will join Augusta Symphony for a mix of beloved classics and exciting new hits on Thursday, October 20.
LaBrecque performed as the phantom on Broadway in Phantom of the Opera, says Meyer.
The Music of Elton John, featuring Grammy-nominated performer Michael Cavanaugh, on Thursday, November 17 is part of the Pops! Series as well.
"I really love those songs, and Michael Cavanaugh is such an amazing performer," Meyer says.
For the past couple of years, Augusta Symphony has featured a popular movie with at least one of its concerts. This season, however, the Symphony infuses Hollywood in a performance with a new twist in Dance to the Movies on Thursday, March 2. Instead of showing a movie in its entirety, the orchestra will perform with dancers from "Dancing With the Stars" and "So You Think You Can Dance" as they recreate memorable scenes from films such as Grease, Moulin Rouge and Singin' in the Rain.
"I haven't done this particular show before, but it's fully arranged and choreographed," Meyer says. "It's important for the dancers to have the right tempo, and they bring an added dimension to the performance."
The popular Family Concerts at Columbia County Series also will return this season with Halloween at the Symphony on Sunday, October 23 and Holiday Spectacular on Sunday, December 11 at Hardin Auditorium.
"They were very successful last year," Meyer says. "The music is appropriate for a family series. There are one or two pieces we'll play every year, like 'Sleigh Ride' for the Holiday concert, but the music will be different from last year."
Other concerts include Queens of Soul, featuring the music of Soul and R&B divas Aretha Franklin, Tina Turner, Gladys Knight, Alicia Keys and Whitney Houston, on Thursday, February 2; Vaughn, Williams & Mozart with Anastasia Petrunina on violin on Saturday, March 25; and – back by popular demand – the cowboy charm and talent of The Texas Tenors on Thursday, April 20.
Digital Access and Diversifying
Audience members can continue to enjoy the concerts after the live performances have concluded as well. In a new program this season, Augusta Symphony is offering digital access to video recordings of the concerts for two weeks following each performance to Symphony Series subscribers and ticket holders for individual shows.
Digital access to the concerts, which will not be livestreamed, will be released the Tuesday after each performance. Access will be available to subscribers and single ticket holders whether or not they attended the concert.
"That's one good thing that came out of covid. We learned how to produce digital content, and we've gotten good feedback about that," Meyer says. "After people came to the concert, they were thrilled to be able to watch it again at home. Anyone who bought a ticket will have access. Of course, we're 100 percent hoping that everybody will be there in person."
In addition, Meyer says, "We're trying to diversify what we play, especially for the Symphony Series. We'll have several pieces by unheard voices, contemporary composers and composers of color. We want to be more representative on stage of what our country looks like.
"The times we live in are different than they were a few years ago," he continues. "It's important for orchestras to reflect that. It's an attempt to include on stage more of what we see every day around us."
By introducing patrons to new composers, Meyer hopes to increase interest in the Symphony as well.
"Before covid, we were bringing in a good number of new audiences every year," he says. "We had a growing audience for the Symphony Series. It was growing more diverse and younger."
Now that conditions are returning to a pre-covid state, he hopes to continue to attract new concert-goers.
"It's important to branch out and bring in more people," Meyer says. "If you keep doing exactly the same thing you've done before, then you're going to keep speaking to the same people as before."
However, he particularly wants audience members to have the opportunity "to listen to spectacular music and experience it with other people around them and have that shared experience."
And, although Meyer can't yet reveal any details about the annual Gala, which featured the music of Frank Sinatra last season, he dropped a couple of hints of what's to come.
"It will be very different from last year, and it will be really fun," he says.