While covid-19 is a known respiratory syndrome, evidence is emerging that the virus can affect heart health as well.
The novel coronavirus has its name for a reason. From devising improved treatments to understanding its effects on the human body, the medical community is discovering more and more about covid-19, the disease caused by the coronavirus. While covid-19 is a known respiratory syndrome, evidence is emerging that the virus can affect heart health as well.
"In cardiology journals we have seen volumes about the development of the relationship between covid and cardiovascular issues in the past six months," says Dr. Mac Bowman, medical director, cardiovascular practices at University Health Care System. "That's the acuity and majesty of an organized, scientific approach. We continue to learn."
An Ounce of Prevention
People who are most at risk for cardiovascular ailments can be susceptible due to genetics or to lifestyle choices. However, Bowman emphasizes that the best way for people to avoid cardiovascular issues is to mitigate the risk factors that make them prone to heart disease.
Genetically susceptible people have a family history of heart disease, heart attacks, stroke and diabetes. While family history cannot be changed, other risk factors, which Bowman calls the "big four" — elevated blood pressure, tobacco use, abnormal lipid status and blood sugar levels — are modifiable.
Blood pressure readings should not rise above 134/84, Bowman says. As for tobacco use, regardless of the form, he says, "The appropriate amount is zero."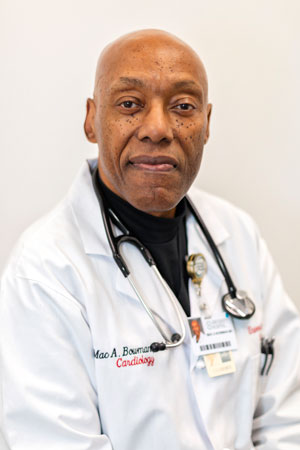 Levels of HDL cholesterol (the good one) should be higher than 40 – 45 milligrams per deciliter – "the higher, the better," and levels of LDL cholesterol (the bad one) should be below 85 mg/dL. "That has changed," says Bowman. "It used to be below 100." And finally, triglycerides should be below 150.
A fasting blood sugar should be 100 mg/dL or less, or a normal A1c, the average blood sugar level for three-months, is 5.7 percent or less.
Other modifiable risk factors, which have become more prevalent with the onset of the coronavirus pandemic, are a sedentary lifestyle and stress that, in turn, exaggerate risk factors for cardiovascular disease.
"This has turned most individuals, most households, most work places and most hospitals askance to the direction it was before," says Bowman.
With more people working from home, lifestyle habits have changed. "Home is supposed to be a safe space where we do the things that make us feel warm and fuzzy," Bowman says.
However, some people who have been spending increased time at home are more isolated or are juggling work, school and childcare responsibilities. They have gained weight because they're eating more and making poor nutrition choices. They don't sleep well, and their heart rate and blood pressure are higher. In addition, Bowman says, homebound people are watching coronavirus news coverage that can be "depressing, disheartening and frightening."
"If you don't have an effective way to deal with that, it can have adverse consequences," he adds. "It's important to face concerns honestly and forthrightly and face them with a plan."
In Control
First and foremost, Bowman recommends that people focus on the things they can control to safeguard themselves from covid and other health problems.
"Social distance. Wear a mask. It's not a political statement. It lessens your ability to infect somebody else, and it protects you," he says. "Keep yourself in the best physical and mental shape that you can. Get fresh air; go outside; walk; dance; and take your medications."
Even people who naturally are tightly wired can find ways to dissipate stress, and physical activity is a good way to relieve tension.
"Exercise in a fun and healthy way helps blood vessels relax and helps people burn off energy in a positive way," Bowman says.
Since the coronavirus pandemic began, people have postponed or skipped doctor's appointments. However, Bowman stresses the need for cardiovascular patients to keep their regularly scheduled appointments.
"We try to identify evidence of a problem, and most importantly, we try to help them rectify that problem," he says. "We do it as a team."
At his office, like other medical practices, the staff has taken precautions to make patient visits as safe as they can. Social distancing and masks are required, and patients' temperatures are taken. "We try to make them feel as comfortable as possible," Bowman says.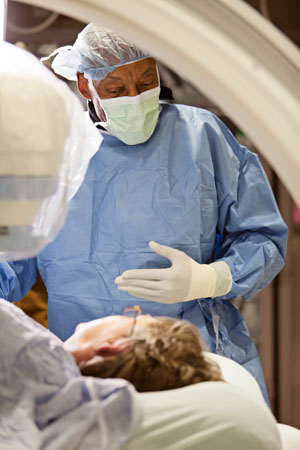 For patients who are apprehensive about going to the office for an in-person visit, his practice offers video visits, telemedicine and phone calls to discuss lab results and medications.
"We try to give them options," he says.
Patients' family members currently cannot come with them to office visits, but the patients themselves often are the best advocates for their health.
"If you have a pre-existing condition, it's important that you listen to your body," says Bowman. "Especially if you're in a high-risk group where you have high blood pressure, diabetes or you have felt pressure in your chest before, you can't stay home and talk yourself out of being seen by a doctor."
Cardiovascular patients that avoid treatment can suffer serious consequences. When people suffer a heart attack at home and delay treatment, Bowman says, they lose heart muscle and don't get it back. This also could result in congestive heart failure later.
"People need to take care of themselves. Don't delay if you have an issue. There are ways to be treated," says Bowman. "The later we see you, the less we can do."
However, taking precautions doesn't take the risk factors down "to zero."
"Just because you're high risk doesn't mean you'll get covid, but you need to be more hyper-vigilant," Bowman says. "And there's twice the possibility you'll have cardiovascular involvement."
Covid and Cardio
The cardiologist says 20 percent of covid patients will have some enzyme elevation, which indicates that the virus has affected the heart muscle. For those who are at greater risk for heart disease, the probability of enzyme elevation jumps to 35 percent to 50 percent.
"The heart very early on identified itself as a strong player in this situation," says Bowman.
The higher the cardiac lab abnormalities such as cell damage, inflammation or heart wall stress, he says, the greater the potential for cardiac adversity, including death.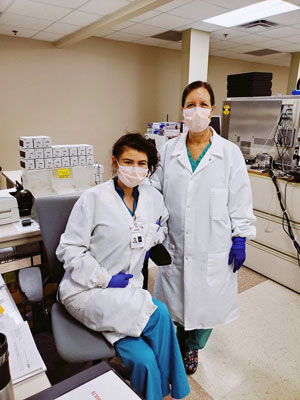 "With covid, inflammation of the heart doesn't mean it has irrevocable damage, but some people could have less stamina," he says. "There are questions about the residual effects of people with moderate inflammation."
If the virus attacks blood vessels, it can increase the possibility of a stroke. In addition, blood clots can form when small vessels in the extremities become inflamed.
"Because covid affects the blood vessels and everything traveling to the heart, it can cause life-threatening blood clots to the heart," says Bowman. "Multiple organs can become affected, and they don't show improvement."
Research has shown that even athletes who have been infected with the coronavirus could be at risk for heart complications, he says, and there is a question of "how soon is too soon" for them to return to action.
Meeting the Challenge
Of covid patients, Bowman says, 75 percent to 80 percent feel bad for two to three weeks, and 10 percent to 15 percent require hospitalization. Another 5 percent to 8 percent go on a ventilator, with a minimal likelihood of getting off of it.
Covid-19 has challenged physicians to try new strategies, the cardiologist says, and treatments have changed since March.
Initially, patients on ventilators laid on their backs. Now, however, they are put in a prone position on their stomachs, and they are improving faster. "In the covid age, it's a routine part of pulmonary maintenance," says Bowman.
In addition, he says, covid patients are being treated with the medications remdesivir and dexamethasone as well as blood plasma that has been donated by people who have recovered from covid-19. Patients also are put on blood thinners earlier now to treat complications of the disease.
Physicians are still learning about the virus, Bowman says. For instance, they have found that some people have T-cell lymphocytes that fight the virus and protect them from covid.
"The cells stay in the blood and have memory to attack covid, but we don't know why," he says.
However, Bowman calls herd immunity "potentially dangerous."
The science is unclear if those who have contracted covid-19 are immune to future infection, and the intermediate and longer term consequences of the coronavirus are unknown. And, under a herd immunity strategy, those who are affected less severely by the disease still can pass the virus to the elderly and others who have a higher risk of mortality.
Bowman, who has been practicing medicine since 1977, believes testing and a vaccine are key to battling the pandemic.
"Getting quick testing is the next big thing we need to do, with results available in 15 minutes to two hours. Contact tracing goes out the window when it takes a longer time to get results," he says. "Quick testing would be a usable weapon. We ought to have it. I don't understand why we don't."
He is optimistic about the development of a vaccine as well.
"I believe as we get a vaccine, and we will, it won't be an instantaneous answer. But it will be better," he says.
The cardiologist believes people should have no reservations about getting the vaccine, but that people in high-risk categories should be the first to receive it. He also says he has never seen anything like this virus in all his years of practicing medicine.
"It's real. It's real. It's humbling. It's eye-opening. It's challenging in every way, shape and form," Bowman says of covid-19. "Everywhere you look, it has changed a norm. Doctors are no different. We need a level of insight, energy and humility. There is no comfort zone."
Nevertheless, he is quite comfortable with his mantra to remind people to try to stay as healthy as possible until the pandemic ends.
"Six feet apart. Avoid crowds. Sunshine when you can. Regular exercise. Good nutrition. Wear your mask," says Bowman. "And say your prayers – before, after, in reverse and upside down."
By Betsy Gilliland