Maner Offers:
Installed fencing of any type – residential & commercial – with over 30 years experience. Licensed, insured & bonded.
We offer a full glass division for residential & commercial needs.
A hollow metal commercial door & frame shop – creating any custom work you need.
A certified Engineer/Lumber Designer.
Full line of lumber, plywoods, roofing, fasteners, tools & hardware.
Millwork & Design Specialist.
Drywall & Stucco Specialist.
A full Masonry division with brick, block, stone,concrete rewires and rebars and a full line of mortars,additives, mixers and masonry trade accessories.
We offer in-house credit.
Accurate "job" billing for cost managing.
With over 60 years of experience, we have the Professionals, the Products and the Service to meet your project needs.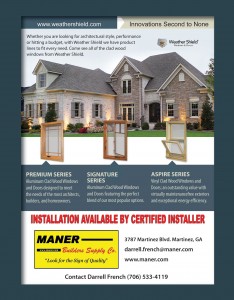 Contact Darrell French 706-533-4119