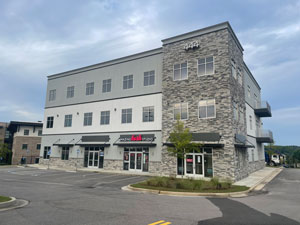 The growing number of new businesses in Columbia County speaks volumes.
With medical, government, cyber and energy services, Columbia County and the surrounding areas are able to withstand any downturns to the economy relatively well.
However, from retail to industrial development, the county's business outlook is trending upward, and that helps local merchants and residents.
Scott Johnson, the county manager, says bringing new businesses to the area enhances the county tax base.
"As our community grows, we want to make sure we keep our shopping dollars in the county because we benefit from that," he says. "We have lowered the millage rate six times in seven years because the economy is continuing to grow. More businesses puts less demand on individual property owners."
Robbie Bennett, executive director the Development Authority of Columbia County, sees additional benefits to the business climate. "Quality of life, quality of place is important," he says. "We want Columbia County residents to want to be in Columbia County."
From one end of the county to the other, businesses of every variety have opened their doors in new or existing real estate.
In Martinez, Pinnacle Bank opened on Furys Ferry Road in late February. Another branch, which could open by the end of the year, is under construction in Grovetown at the intersection of Lewiston Road and Autumn Trail.
On Furys Ferry Road, Dave's Appliance Warehouse opened this summer, and Wine & Design opened for sip and paint activities in September. Site work is underway at the intersection of Furys Ferry Road and Inverness Way and Park Lane for construction of a one-story, three-unit commercial building that D.C. Lawrence Real Estate and two other tenants will occupy.
The 41,000-square-foot former Bi-Lo at the corner of Columbia and Belair roads has been divided into two spaces, and Harbor Freight, which carries hardware items, opened in the spring in a 15,000-square-foot space in the building.
The county also has received applications from people on River Watch Parkway to convert their houses to professional properties. "Over time, it will transform into a more professional corridor," Johnson says.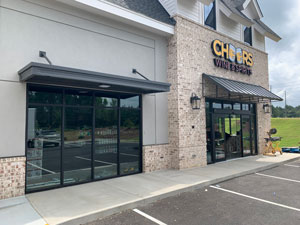 In Evans, Amazing Lash Studio opened in The Legacy Building on North Belair Road in June.
Cheers Wine & Spirits opened in a newly constructed building at the corner of Evans to Locks and Furys Ferry roads in September. Also on Evans to Locks Road, site work has started for the expansion of Paws in Paradise.
Gas World, a locally owned gas station and convenience store chain, is under construction at the corner of Old Evans Road and Martinez Boulevard.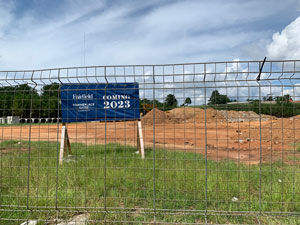 The long-awaited mixed-use development in The Plaza at Evans Towne Center, which will feature retail, office and residential space, is under construction. Nailed It, a DIY craft studio, is moving into the Meybohm Building soon.
Located at the corner of Ronald Reagan Drive and North Belair Road, a mixed-use retail center called Evans Society Center is under construction. The center has two buildings, which will total 10,000 square feet.
Buff City Soap, a national handmade soap company with an in-store makery, opened in Mullins Crossing in September.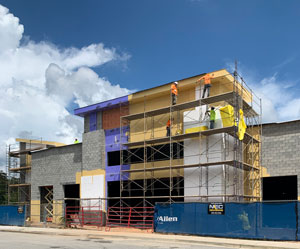 The adjacent Mullins Colony is seeing activity as well. Beverage Outlet is building a 20,000-square-foot discount liquor store next to Belk. Brazilian Wax and Spa also opened in Mullins Colony earlier this year.
Washington Road in Evans has some new faces as well. Lapels Cleaners moved into the former Brickle's Cleaners site in April, and CBD store Purple Bloomz opened in August. Take 5 Oil Change opened in a new Washington Road building in late summer.
In addition, Queensborough Bank & Trust on Washington Road is expanding onto adjacent property that was the site of Tip Top Taps.
Eclipse at Riverwood is slated to open this fall just outside of Riverwood Plantation on Washington Road. This mixed-used development will include the 85,000-square-foot Eclipse Storage and another building with 9,000 square feet of retail space.
Storage Hotel recently opened in Grovetown near Columbia County Fairgrounds as well. In the Gateway area, developers broke ground in May on an extended-stay TownePlace Suites by Marriott and a midrange Fairfield by Marriott, which will share the same building. They will be built next to Home2Suites.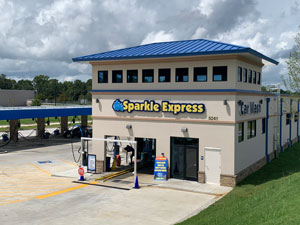 Other new businesses that have opened in the past year include Southern Dance Company and Light Design Inc. in Harlem and Sparkle Car Wash in the city of Grovetown.
"Small businesses are the backbone of Columbia County," says Robbie Bennett, executive director of the Development Authority of Columbia County. "They represent nearly 80 to 85 percent of the employment base of the county. A small business can be a business of up to 500 employees, but 80 to 85 percent of employees that work in the county work for a business that employs less than 20 people."
However, large industries are thriving as well. In White Oak Business Park off of Appling Harlem Road, construction will begin soon on a new 104,000-square-foot spec building. Site plans were being finalized in early September, and construction was expected to start within a month.
Bennett says White Oak, which will be five years old in December, has more than 3.4 million square feet of space and 5,500 employees work there.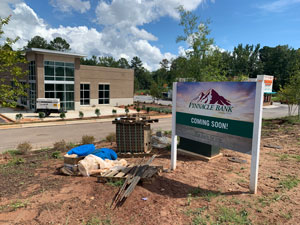 In addition, he says, 19 or 20 projects are looking actively at White Oak as a future home. Of its nine available spaces, he says, "There are four or five sites where we can put somebody right now."
Of the other sites, three have been claimed and a building is going up on another one. The projects represent $30 million to $2 billion in capital investments, says Bennett.
GIW held a grand opening for its foundry expansion – its second enlargement since 2014 – in April.
"Industry growth leads to the growth of retail and restaurant offerings and will drive more business to this market," Bennett says.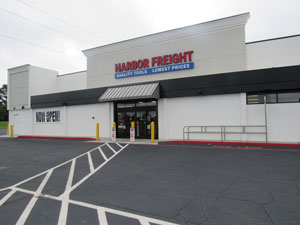 He also says that the availability of a strong workforce – locally and regionally – attracts new businesses to the area.
"The county is well-diversified," Bennett says. "We can get businesses up and running quicky."