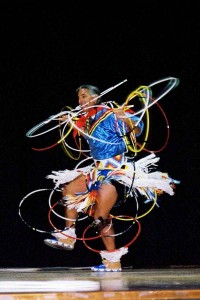 Known for its dramatic and visually compelling performances of Native American culture, the Kevin Locke Dance Ensemble will visit the area as part of Georgia Regents University's Lyceum Series this month.
Representing the Lakota, Anishinabe, Comanche, Choctaw, Ojibwe and Oneida nations, this one-of-a-kind ensemble of performers offers a variety of American Indian traditions and aesthetics in dance, instrumentals, song, storytelling, sign language and audience interaction.
Dramatic lighting effects add visual interest, but the dances themselves strictly honor tradition. Educational explanations woven into stories and narratives surround the dances.
Locke (his Lakota name, Tokaheya Inajin, means "The First to Arise") is known worldwide as a visionary hoop dancer. He also is a preeminent player of the indigenous Northern Plains flute, traditional storyteller, cultural ambassador, recording artist and educator.
If You Go:
What: Kevin Locke Native Dance Ensemble
When: 7:30 p.m. Saturday, January 24
Where: Maxwell Performing Arts Theatre
How Much: $15 reserved seating
More Info: (706) 667-4100 or gru.edu