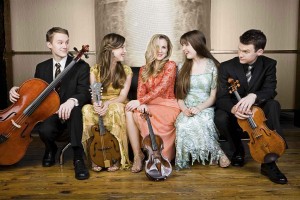 The family that plays together stays together. Just ask members of the Annie Moses Band, who have performed together on stages ranging from Carnegie Hall to the Grand Ole Opry.
The Christian family of Juilliard-trained musicians and award-winning songwriters is bringing its distinctive style of folk and classical music to the Jabez S. Hardin Performing Arts Center on February 6. Led by lead singer and violinist Annie Wolaver, the band also includes her six siblings – Alex, viola; Benjamin, cello; Camille, harp/keyboard; Gretchen, violin/mandolin and Jeremiah, guitar/banjo.
Their parents, Bill and Robin Wolaver, compose pieces that weave musical styles into cinematic arrangements while the talented siblings exhibit their Nashville-styled music making. 
If You Go:
What: Annie Moses Band
When: 7:30 p.m. Friday, February 6
Where: Jabez S. Hardin Performing Arts Center
How Much: $42 and $47
More Info: (706) 726-0366 or augustaamusements.com