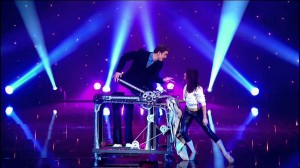 An award-winning magician offers no illusions — wait, yes he does — about his entertaining style
Self-taught performer Adam Trent is not your stereotypical magician.
"I've always thought that magic should be entertaining first and tricky second. I don't want people to remember just the 'tricks,' but also the laughs and the memories that were made," he says.
His shows are part magic, part concert and part stand-up comedy, and he will appear in Evans on Saturday, April 16. The 17-year veteran of magic and stage performance blends dancing and singing to his original pop music with innovative stage illusions, wit and emotion. In the past year, he has performed more than 300 live shows in 19 countries at venues including cruise ships, colleges, comedy clubs, theaters and civic centers. He also has appeared on the Disney Channel in a feature performance. 
Trent is one of the youngest international award-winning magicians in history, and U.S. News & World Report named him one of "The 10 Most Influential Youths in the Nation." 
Tickets can be purchased online at augustaamusements.com or by calling (706) 726-0366.
If You Go: 
What: The Futurist, Adam Trent 
When: 7:30 p.m. Saturday, April 16 
Where: Jabez S. Hardin Performing Arts Center
How Much: $40
More Info: augustaamusements.com