When it comes to providing a lifeline to our troops, Cell Phones for Soldiers does more than talk the talk. The nonprofit organization sells donated mobile phones and uses the proceeds to buy international calling cards for troops or to provide them with emergency financial assistance.
The organization also accepts donations of other electronics such as laptops or tablets, and depending on their condition, the devices are recycled or repurposed. Since its founding in 2004, Cell Phones for Soldiers has provided more than 300 million minutes of free talk time by sending more than 5 million calling cards to servicemen and women and recycling more than 15 million cell phones. "We have never turned down anyone for cell phone service," says COO Charles Taylor.
Soldiers must provide qualifications to be eligible for assistance, and the nonprofit finds those in need through VA hospitals, its website, case workers, veterans' organizations and homeless shelters. The cell phones help soldiers communicate with their case workers and doctors. Younger veterans who are trying to re-enter the work force use them to contact potential employers.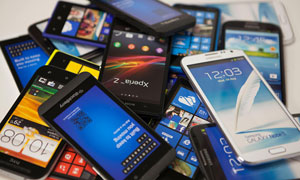 "Veterans use the cell phones for six months, 90 days or whatever fits their needs," says Taylor. "Older veterans use flip phones, and younger veterans want newer models with apps. They're a proud group, and they will donate their phones back to us after they're back on their feet. It's a hand up, not a handout."
Cell Phones for Soldiers, which provides more than 500,000 wireless minutes domestically per month, sends phones all across the United States. However, the organization concentrates its efforts in Georgia. 
"Georgia is one of the top five states for veterans that need assistance," says Taylor. 
Local drop-off locations to donate devices include EMC Engineering Services in Evans, Navy Federal Credit Union in Augusta and Metro PCS in North Augusta. For more information, visit cellphonesforsoldiers.com.